You've got some, we've got some, everybody's got some. We're talking Funko Pops. Specifically, the most expensive Funko Pops that have collectors going nuts:
Each of these top 25 goes for four-or-five figures. And some are regularly listed for six figures!
So, whether you're a big fan of Funko, a hustler after barn finds, or someone just curious as to what is the rarest Funko Pop, these are the top 25 Most Expensive Funko Pops right now.
CHECK OUT: 10 Most Expensive Beanie Babies – From $1,200 To $159,000
25. Giant Steamboat Willie, $1,140
Valued at $1,140, Mickey Mouse as Steamboat Willie made his debut in 1928. The Steamboat Willi POP vinyl from Funko Pop is perfect for anyone who's a fan of the original cartoon. This silver metallic figure is 9 inches in size.
Mickey Mouse first appeared in this short cartoon film titled 'Plane Crazy,' which was also released in 1928, though it was the success of Steamboat Willie that established the career of Disney's famous mouse.
ALSO READ: 10 Best 90s Movies Streaming On Disney Plus
24. 1970s Elvis (Glow-in-the-Dark), $2,000
Hailing from the 1970s, this is one of the best-selling Funko Pop versions of the King that shook up all the sellers and buyers. This cute little Elvis Presley Funko Pop is wearing the iconic white jumpsuit and cape. The idol is worth over $2,000. What's more, the figure even glows in the dark.
23. Green Lantern (Glow-in-the-Dark), $2,000
Though the Green Lantern movie might not have been a massive hit, Hal Jordan and his power ring have become formidable opponents for the collectors of Funko Pops. This version of the glow-in-the-dark Green Lantern was unveiled at the 2010 San Diego Comic-Con and has continuously sold for well over $2,000 since then.
22. Batman (Silver), $2,500
For all DC fans out there, this is a Hot Topic exclusive that was never made available to the public. This elusive Funko Pop Batman figure in silver was given to a handful of chosen Hot Topic employees, and only 108 figures were ever manufactured. This has made this Batman silver figurine one of the rarest Funkos ever to be produced. One of these figures was sold for $2,500 in 2020.
21. Frankenstein Freddy Funko (Glow-in-the-Dark), $3,000
This is Funko Pop's own rendition of Frankenstein from Freddy and launched at the 2019 San Diego Comic-Con. This cute monster figure is available in two forms. There is a non-glowing version, of which only 350 pieces were made, each costing around $610, and the glow-in-the-dark version, of which only 24 pieces were manufactured. Recently, one of these glow-in-the-dark monster figures sold on eBay for $3,000. The Frankenstein Funky Pop is valued at $3060.
CHECK OUT: 5 Simple Tips For Building An Action Figure Collection
20. Purple Haze Jimi Hendrix (Metallic), $3,080
This is a limited edition chase variant of Jimi Hendrix with a purple bandanna. The demand and price for this variant of Funko Pop have been steadily on the rise since 2014, and it is valued at $3,080 today.
19. Boba Fett Freddy Funko (Red Hair), $3,120
Valued at $3,120, this is believed to be the most expensive Star Wars Boba Fett figure. This Freddy Funko version is so valuable because only 24 pieces were made. The red hair variant is said to be worth the most, but the auction figures for the green-haired variant are also listed in the range of $2,000 to $3,500 on eBay.
18. Tony Stark Freddy Funko (Metallic), $3,500
This rare Tony Stark Freddy Funko Pop is valued at $3,500. This is also a coveted piece Funko as only 12 of them were made, making it difficult to find. While the value of this Avenger Funko Pop stands at $3,500, it constantly has a much higher listing price.
17. Giant Buzz Lightyear with Zurg (Glow-in-the-Dark), $3,800
Buzz Lightyear, the famous astronaut from Pixar's Toy Story franchise stands tall at 9 inches as this Funko Pop collectible. This particular Funko Pop collection comes with a miniature figure of Zurg, Buzz Lightyear's arch-nemesis. In fact, one of these bundles was sold for $3,800 in May 2019.
16. Bottom Line: Frankenberry Freddy Funko (Glow-in-the-Dark), $4,400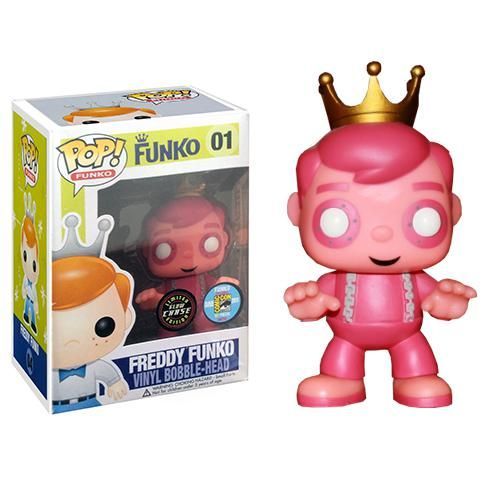 From the Funko Pop stable is another cute version of Frankenstein. This time it is Frankenstein meets Freddy Funko. This toy immediately became coveted, with the cute pink Freddy/Frankenberry mashup selling for over $4,400.
15. Big Boy Blue Freddy Funko, $4,850
This is a representation of Freddy being turned into the iconic Bob's Big Boy statue from Bob's restaurant at the 2019 San Diego Comic-Con. The figure was launched in two variants, one with Freddy wearing a blue apron and one with Freddy in a red apron.
There were 12 models of the blue apron variants made, while 520 figures were made of the red apron variant. The figures skyrocketed in value immediately after its launch, with one toy selling for $4,850 in December 2020 after a long drawn out 23-bid bidding war on eBay.
CHECK OUT: The 9 Vintage Coke Bottles That Are Worth Money
14. Bottom Line: Hopper (Gold), $4,900
Great news for fans of the TV show 'Stranger Things' – the Funky Pop figurine of Hopper, the grumpy and grizzled cop from the famous show, is today worth well over $3,000. This rare Funko Pop is a relatively new release. The figure was first showcased in 2018 at the San Diego Comic-Con, and quickly became a valuable collectible.
The estimated value of the Golden colored Hopper figure is $2,240, which often keeps increasing. There are two listings on the Pop Prices marketplace for this Gold Hopper – one for $3,700 and the other for $4,900.
13. Dumbo (Gold), $5,050
Funko Pop's gold version of the classic Disney character Dumbo jumped in price. The figure is based on the original Disney movie from 1941 and not the latest 2019 Tim Burton version. Sales for the Dumbo figure soared from $710 in 2014 to reach $3100 in 2018. One eBay listing even has the idol listed for $5,050.
12. Ghost Rider Freddy Funko (Metallic), $5,600
Your favorite motorcycle-riding demon from hell received his very own Funko Pop figurine. This metallic version of the toy features a grimacing Freddy, wearing the signature chains and motorcycle jacket of Ghost Rider. The figure was released in 2013 at the San Diego Comic-Con as an exclusive product. In 2016, one of these figures sold for $5,600.
11. Apollo Creed Freddy Funko (No Bruises), $6,000
There were two types of Apollo Creed figurines that were made. One was with bruises and the other one without bruises. There were 96 pieces manufactured of Apollo Freddy with bruises, but only 12 without the bruises. The bruised edition is also rare, but not so rare that it is never available for sale. At present, one such piece is being sold on eBay for $2,000.
Nevertheless, the unbruised Freddy Apollo Creed figurine is a very rare collectible. In fact, most people have never even seen it. One such toy sold for $6,000 in December 2020.
10. Count Chocula Freddy Funko (Metallic), $6,100
Count Chocula managed to beat out Boo Berry and Franken Berry both in the cereal-based popularity war, at least when it comes to the Funk Pop universe. The character is based on the much-loved commercials kids loved from the 70s, 80s, and 90s. This metallic version of Freddy posing as Count Chocula has sold for a high price of $6,100.
CHECK OUT: 9 Nerdy Collectibles Worth Life-Changing Amounts
9. Dumbo (Clown), $7,000
This is another expensive variant of Disney's 1941 movie Dumbo. The toy is based on the scene where Dumbo was forced to act in a circus and escape a burning building dressed up as a clown. The clown Dumbo figure launched at the 2013 San Diego Comic-Con exclusive. The highest listing for this figure was at $6,000 on eBay towards the end of 2018.
8. Superhero Stan Lee Metallic Red, $7,290
This famous chrome red version of Stan Lee the superhero is a coveted Funko Pop that is so rare that there are very few pictures available of this:
Only 12 figures were ever made, and they almost never go up on sale. The last evidence of this figure on sale was in an archived eBay post. The figure is valued at $7,290, but it is so rare that many people doubt whether it even exists or not.
7. Venom Freddy Funko, $7,500
This Venom Freddy Funko was a Funko Fundays exclusive launched at the 2019 Comic-Con. Only 24 such figures were made, and they are quite challenging to find. According to some, they were handed out in Funday mystery boxes during the Comic-Con that year. This figure is valued at $7,500.
6. Buzz Lightyear Freddy Funko (Metallic), $10,000
Another Buzz Lightyear collectible Funko Pop finds itself on this list. This is a metallic version of Freddy Funko as Buzz Lightyear from Pixar's Toy Story and it is known to have sold for between $5,700 and $6,500. Looking at this trend, the average sale price for this figure is expected to only go up. One of these was recently on sale on eBay for $10,000.
5. Count Chocula Freddy Funko (Glow-in-the-Dark), $10,000
This Freddy Funko is very rare. And you are unlikely to ever see this figure go up on sale. According to sources, only one such figurine has been sold in the last two years, and that was for a whopping price of $10,000. These figurines were issued in 2011, and only 12 pieces were ever made.
CHECK OUT: 9 Most Expensive Rookie Cards Ever – Includes NFL, NBA, MLB, and NHL
4. Alex DeLarge (Glow-in-the-Dark), $13,300
This is one Funko Pop that is mighty expensive. Often just known as 'A Clockwork Orange,' this Funko is modeled on Stanley Kubrick's vision for Alex DeLarge, which produced the famous and frightening youth clad in white having an affinity for ultraviolence. This glow-in-the-dark version is the most coveted toy, but even the regular Alex figure is worth quite a lot. This figure is valued at $13,300.
3. Boo Berry (Glow-in-the-Dark), $15,000
The glow-in-the-dark Boo Berry is considered to be one of the top ten catches amongst Funko Pop collectors. The Pop Price Guide lists this little blue ghost for an average price of $3,450, but the last time one of these figures sold was for a whopping $7,900 in January 2018. There is also another one at sale online for an eye-popping price of $15,000.
2. Jaime Lannister Freddy Funko (Bloody), $20,000
In this Funko Pop, Freddy makes an appearance as a bloody Jamie Lannister from the hit series 'Game of Thrones.' This is a limited variant that hails back to the 2013 San Diego Comic-Con. It can fetch even double its average price tag of $9,300. In fact, one listing on eBay sold for $20,000 in 2019, while another sold for $13,500.
ALSO READ: 30 Best Action Movies And Where To Stream Them
And finally, the rarest Funko Pop right now is…
1. Set of Limited Edition Stan Lee (Metallic) Signed, $120,000
Just added ultra rare chrome Metalic @OriginalFunko of Stan! Only at Comikaze @stanleestuff booth #Funko #Comikaze15 pic.twitter.com/TlGDAXofWe

— Los Angeles Comic Con (@comicconla) October 24, 2015
After the passing of the legend, Stan Lee, in late 2018, many items related to him have gone up in value. The autographed chrome and gold metallic versions of Superhero Lee are trending for astounding figures of $100,000 to even $120,000 on eBay. A single signed metallic version was being sold for $18,000, while the unsigned, regular gold version is only for $155.
Share: