5 Rare WWE Action Figures Worth Thousands Of Dollars Today
WWE entered the world of action figures in 1984 with some help from LJN (back then it was the World Wrestling Federation, not WWE).
Since then, they have been on every fan's Christmas list. And while action figure collecting has always been a favorite hobby among the young, it's hard to imagine kids from the 80s keeping their toys boxed for future collectors to covet (I know I didn't).
Despite being able to buy used WWE action figures for around $10 from stores and online markets today, there are some that are worth thousands. Several factors increase the price of these WWE action figures and rarity falls at the top of that list.
CHECK OUT: 5 Best AEW Action Figures For Collectors
5. The Hart Foundation Tag Team Box, $1,200+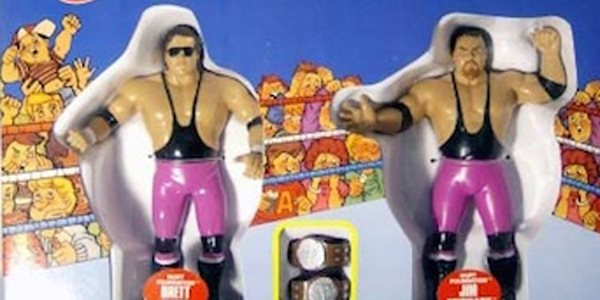 LNJ released a tag team series in 1986, among which, the Hart Foundation Tag Team was the most loved. Featuring Bret Hart and Jim Neidhart in their pink pants, vests, and championship belts.
I had one of these boxes back in the 80s – little did I know it would be a collector's item today. The price of an opened box can go for $500, yet an unopened box in good condition can be worth $1,200+.
CHECK OUT: The 5 Most Valuable Michael Jordan Cards That Prove He's The GOAT.
4. Miss Elizabeth Purple Skirt (LNJ), $1,800+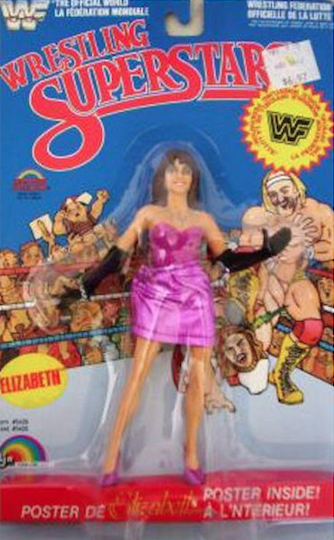 Miss Elizabeth is one of the most loved female celebrities in the WWE Universe. She is still remembered for her elegance and reserved personality. Miss Elizabeth played an important role in the career of Macho Man and her action figure is one the rarest.
There are various variants to Miss Elizabeth's action figure on the market. One of them comes with a leather skirt, another with a glossy gold skirt:
However, the one with the Purple skirt is the rarest. The price of Miss Elizabeth in the purple skirt was $1,800 back in 2014. This price has likely gone up since then.
CHECK OUT: 5 Best Royal Rumbles In History
3. WWF Hasbro Magazine Mail-Away, $2,850+
Back in the '90s, WWF magazine started an online delivery service where action figures can be ordered online. These action figures are still among the most popular.
The exclusive WWF Hasbro Magazine's The Undertaker, Hulk Hogan, and Bret Hart are the most difficult to find today. An unopened The Undertaker Hasbro Action figure was sold for $2,850 on eBay in recent years.
ALSO READ: 12 Best Sports Movies Of All-Time
2. Macho Man Randy Savage (LJN), $4,500+
"Ooh Yeah!"
The rarity of Macho Man Randy Savage (LJN) can be defined by the fact that only collectors were aware of its existence when it was auctioned. Prices for this WWE action figure range from $1000 to $4,500, depending on the box and condition.
There is no reason as to why it is so rare, yet experts on the matter believe that the company LJN produced a limited stock of the figure and only a few are known to exist still.
CHECK OUT: The 5 Most Valuable Vintage Star Wars Action Figures.
1. Kamala (Moon on the Belly), $10,000+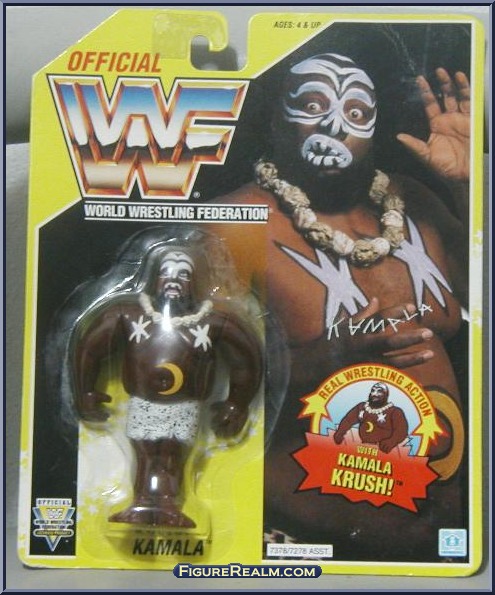 Hasbro released the Kamala action figure as part of the Yellow Card series. The vintage Kamala action figure has a moon on the belly instead of the trademark and that makes it different from other models.
There is no exact explanation as to why the trademark was replaced with a moon, yet experts believe that it was due to a legal issue. It is believed that there are only 24 Kamala action figures with a moon on their belly today, making it the rarest among all WWE action figures.
The Price of Kamala (moon on the belly) action figure ranges from $3,000 to $10,000.