15 Most Valuable Retro LEGO Sets from the 80s, 90s, and 00s
Certain factors drive the value of retro LEGO sets. It can be their assembling method, time spent on them, expensive pieces, or just general demand in the market. Amazingly, some retro LEGO sets are worth thousands of dollars and hold a significant place for kids and adults alike even in this digital era.
Some LEGO special editions such as the Taj Mahal or Eiffel Tower were released in limited numbers making them LEGO collectible gold. Therefore, if collectors are able to come across one of these retro LEGO sets for sale, they should do their best to snatch it up before they go, because it could be a worthwhile investment.
RELATED: Rare LEGO Minifigures That Are Worth Thousands Of Dollars
What are Retro LEGO Sets?
Retro LEGO sets are just what they sound like. These are LEGO sets that were released between the 1980s through the 2000s and have made a significant enough impression that they are still selling for a high value today.
Whether that's franchise collaborations, sculptures of monuments, or amazing additions to the LEGO village, there are several different types, styles and reasons why these LEGO sets are worth thousands today, when they only cost maybe a few hundred back then.
Most of these sets are retired LEGO sets, which means that they only had a shelf life of a year or two, maybe even less, and will not be available on the official LEGO store.
Retired Sets
Retired sets are simply LEGO sets that are no longer on the official LEGO store. Most LEGO sets have an average of a year or two on the shelf, and then they stop production. This can be due to the no one purchasing them anymore, lack of interest in that certain field, or to make room for upcoming sets that will do much better.
No matter the reason, once a LEGO set is retired, they are no longer produced, which means the only way you can find them is from second marketplaces like Facebook Marketplace, eBay, or LEGO sites like Brick Link.
Retired LEGO sets also commonly increase the value of the set you're looking at. Most of the time, if you have a popular franchise item, once it's retired, the value will go up.
The Most Valuable Retro LEGO Sets
From creator, sculpture to even collaborations with other franchises, these are some of the most valuable retro LEGO sets from the 80s, 90s and 2000s that you should keep an eye out for when searching second markets.
15. LEGO Rebel Blockade Runner, $1,400
Of course, Star Wars had to start the collection of most retro LEGO sets that you can find today. Star Wars has such a large fanbase that almost every toy or media has referenced or collaborated with it. The Rebel Blockade Runner was released in 2001 and retired in 2003.
It consisted of 1747 pieces and is valued at $1,400 new, and only $700 used. There have been several sightings of the LEGO set on second markets, such as Brick link and eBay, so collectors of Star Wars and LEGOs everywhere have a high chance of getting their hands on some of these items.
14. Eiffel Tower, $1,455
It's pretty common to find collaboration sets, such as Star Wars, throughout the article, as they most likely will have the highest value to this day. But another popular item are the sculptures, like this Eiffel Tower retro LEGO set that was released in 2007 with a total of 3428 pieces.
This was on the shelves until 2009, giving it a great shelf life. Once it retired, it only went up in value, from $199.99 to $1,500. This is one of the most valuable Creator LEGO sets as of right now, making it a worth it investment for those that come across it.
CHECK OUT: Most Expensive LEGO Sets: From Tauntauns to Turtles
13. LEGO Statue of Liberty, $1,531
Another sculpture was released in 2000 and had a two-year life span. With over 2800 pieces, this brilliant set captures a highly detailed Statue of Liberty. Since it's retirement in 2002, it's only grown in value, with a price of around $1,500. You can find this set on second markets, like eBay, and is pretty easy to find.
It's one of the biggest sculptures sets and one of the most valuable within its type, which is more than enough reason for LEGO collectors and fans to try and get their hands on this rare item.
12. LEGO Grand Carousel, $1,600
Released in 2009, this Grand Carousel had a two-year life span. Its currently value is well over $1,000, making it one of the most valuable retro LEGO sets. It has 3261 pieces and a staggering 11 minifigures. The Carousel is a large creation that will take a lot of time to build, making it a perfect activity, plus it's the perfect addition to your collection or LEGO town.
There have been some that have recently sold for $1,600, and others that have sold for over $2,400. You can even find it on eBay with varying prices depending on condition and seller.
11. LEGO Darth Maul, $1,630
Star Wars is one of the most popular franchises in the world, and it's still growing to this day. From the TV series, movies, comics and novels, there are so many stories centering around the sci-fi adventure. LEGO also has done several partnerships with the franchise, creating wonderful merchandise for fans that want to commemorate their love by displaying amazing pieces.
Whether it's for play or decoration, this is one of the most valuable retro LEGO sets you can find today. Made in 2001, this piece features Darth Maul's bust with a total of 1868 pieces. It's estimated to be between $814 to $2462, averaging around $1,600.
10. LEGO Maersk Line Container Ship, $1,700
Another valuable retro LEGO set is the Maersk container ship released in 1974, which has about 220 pieces, the third biggest LEGO boat set made, and the most valuable boat set.
While it contains no minifigures, it's a very rare piece due to it being a promotional release with Maersk Line, Denmark.
9. LEGO Milk Truck, $1,980
Released in 1999, this retro LEGO set is an adorable collection that is perfect for your LEGO town. With only 95 pieces and one minifigure, it's on the smaller side but it still has a high value. Unfortunately, it's not an easy set to find, as there are currently none on eBay, but a few on Brick link.
Depending on the condition, you can find these sets on the cheaper side, even though it's valued at a high price of $1,900 just due to how rare these sets are.
READ MORE: Future Collectibles: Mini LEGO 1970 Fender Stratocaster
8. LEGO Market Street, $2,163
This set was released in 2007 and is made as an addition to your LEGO town. The set features a spiral staircase, awnings, removeable balconies and a terrace roof so you can have all sorts of playtime. Additionally, you're able to build the Market is several different ways, allowing you to mix and change the way you play. It has 1248 pieces along with three minifigures, all unique to this set, making for a great value.
The street measures at 10 inches by 10 inches, and the building stands 13 inches high, making it a large addition to your town. You can find this item around second markets at a high price of around $2,000 and $3,000 depending on seller and condition.
7. LECA Automobile (LEGO Inside Tour Exclusive 2005 Edition), $2,350
This exclusive LEGO set was a gift for attendees of the LEGO Inside Tour during 2005 and 2006. There aren't that many details about it, like how many were produced, but it is known that the produce is incredibly rare, which would mean that it's one of the more valuable retro LEGO sets.
The estimated value is between $1,227 and $3,000 depending on condition. You can find them across second markets like eBay if you're lucky, as they're hard to find.
6. LEGO Ultimate Collector's Series Imperial Star Destroyer, $2,400
The Ultimate Collector's Series Imperial Star Destroyer is a LEGO set that Star Wars fans will covet. And if any have a spare $2,400 they'll be able to pick up one of these 3,104-piece sets directly from Amazon.com (so they're not exactly super-rare yet either).
The high price of this retro LEGO set has everything to do with the high demand for Star Wars collectibles. So, whether fans are collecting to complete their Ultimate Star Wars ships set, or as a future investment, picking up this set will be a priority.
5. Limited Edition Batman Announcement Set (Comic Con 2005), $2,439
Currently none are available on any second markets right now is the Limited-Edition Batman Announcement LEGO set, which was released in 2006. With only 13 pieces and two minifigs, this is one of the more valuable LEGO sets that you can find right now.
The Commemorative box had a built-in Joker sound chip and was given away at the San Diego Comic Convention to announce the Batman range. The set includes the Joker and Batman, and only had 250 made, making it extremely rare.
RELATED: Most Valuable Retro Video Game Consoles
4. LEGO Airport Shuttle, $2,500
The LEGO Airport Shuttle set was popular amongst 90's kids, with its cool monorail and battery-powered train.
Back in the 80s and 90s, this was in demand and one of the most expensive LEGO sets. Now it's a vintage LEGO set, and the high price continues. At its peak, this set has sold for $2,484 in mint condition.
3. LEGO King's Mountain Fortress, $2,800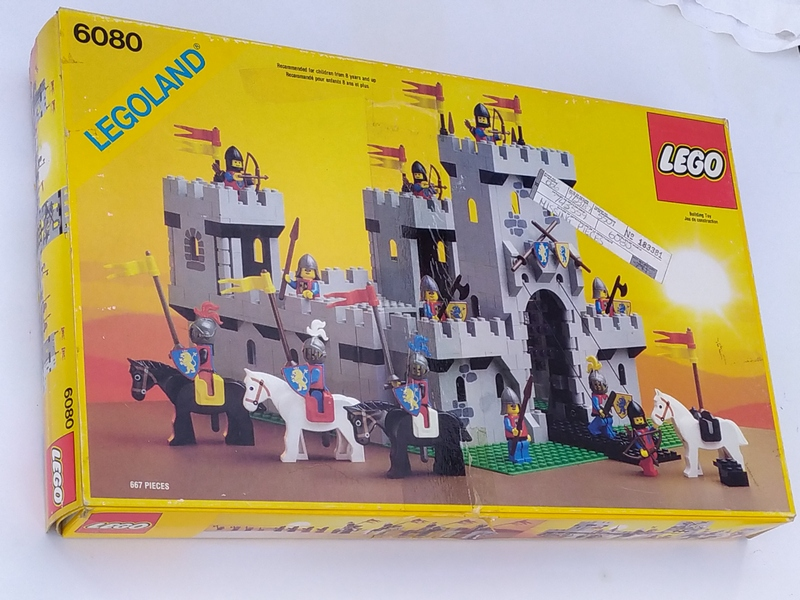 LEGO King's Castle is a top seller amongst LEGO collectors. Perfect for those interested in the era of Kings, Queens, Knights, or even Game of Thrones and Vikings fans.
If you've got a mint condition boxed 1984 King's Castle you could be in line for a King's bounty. Its highest selling price was $2,600, which makes it the third most valuable retro LEGO set on this list.
The set comes with mini figures, including a King and his soldiers. There's also a throne, a moveable staircase, catapults, and other weapons.
2. LEGO Taj Mahal, First Edition, $3,864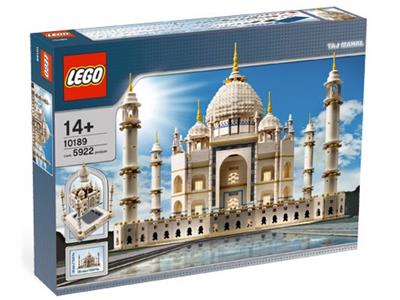 The Taj Mahal first edition was a limited LEGO set, and for a while, it was one of the most valuable retro LEGO sets available.
The highest price the LEGO Taj Mahal First Edition sold for was $3,864. Sadly, for LEGO collectors who paid incredible prices for these such sets, values plummeted when LEGO re-released a similar model. You can now pick up the re-release for around $660 on Amazon.com (ouch).
The set features many details, including sweeping arches, balconies, and arched windows. It is a perfect imitation of Mughal architecture from India. Its 5,923 pieces make the First Edition or the re-release a great display piece for the home or office.
1. LEGO Ultimate Collector's Series Millennium, First Edition, $15,000
The highest price paid for a LEGO Ultimate Collector's Series Millennium edition set is $15,000, making it the most valuable retro LEGO set on Earth. This set was a first edition and factory sealed.
However, you don't have to pay thousands for this set, as you can currently pick it up for between $900 and $2,500 depending on the edition, condition, and location.
This set is a true collector item for both Star Wars and Lego fans. Features include exterior detailing, upper and lower laser cannons, landing legs, and four mini-figure cockpits with detachable canopies. With its fine finishing and large size, it is one of the best retro LEGO sets available.