17 Most Expensive Golf Clubs in the World
Credit: pxfuel.com
If you take golf seriously, having top-of-the-line gear is a must.
For those looking to make a statement on the course, beyond having a masterful swing, owning one of the most expensive golf clubs in the world would turn heads (and close deals).
Although, the most expensive clubs on this list belong in a museum rather than a golfing green.
RELATED: Most Expensive Golf Balls in the World in 2023 (and All-Time)
What Makes a Golf Club Expensive?
One of the main reasons you might see a golf club selling for a hefty price, especially in auctions, is due to their previous owner. If clubs are being auctioned off, they're most likely previously owned by some of the most well-known and successful golfers.
However, the next best reason why a golf club is expensive is just because of the material they're crafted with, like gold and metals and stones. Luxurious golf clubs are a common type, and they usually are made with high-quality materials.
Most Expensive Golf Clubs
Whether you're looking for your next clubs to buy, or you're just interested in what some of the pros are using, these are some of the most expensive golf clubs that you can find right now.
17. Callaway Big Bertha Irons, $1,749.99
For all things golf, Callaway's name is a big one in the industry, having several different items for purchase, as well as pricier options as well.
One of the most expensive golf clubs that you can find is from Callaway Golf, like the Big Bertha Iron set sitting at $1,749.99, their first multi-piece titanium and tungsten iron that provides driver-like power with the precision of an iron. One of their best and most expensive products. It's lightweight, made for speed and launch, and made to help increase consistency.
16. TaylorMade P7TW Irons, $2,000
TaylorMade was founded in 1979 by Gary Adams and is known for being one of the best in the field. TaylorMade has a history of creating revolutionary products throughout the years and have attracted some of the greatest athletes in all of golf such as Tiger Woods, Scottie Scheffler, Brooke Henderson and more.
It's no wonder then that one of the products is on this list, sitting at $2,000 for P7TW Irons, where each iron is meticulously shaped to meet Tiger's discerning eye with longer blade length, thinner topline, progressive face height and more.
15. Maruman Majesty Prestigio Driver, $2,000
In a list of the most expensive golf clubs in the world, the Maruman golf club may seem to be very affordable. Costing $2,000, this golf club of Maruman comes with a fullerene titanium head.
It has a light shaft and contains tungsten, which is what drives up the price of this golf club from your usual driver.
Maruman was one of the biggest sponsors of the Japanese PGA tour in the 90s.
14. Miura As-1, $3,750
In 1957, the Miura story began as it focused on perfection. The company began in Japan where they worked meticulously to craft an elegant and refined product, something beautiful, something that hadn't been done in the golf industry yet.
To this day, they still work hard to craft beautiful clubs that will not only perfect the art but bring perfection to golfers. One way they've done this is by letting people build their own Miura for only $3,750.
13. Titleist CNCPT Irons, $4,261
Titleist was founded in 1932 by Phil Young, a dedicated amateur golfer who has the game's best interest in mind. From clubs, balls, and gear, Titleist has everything a golfer would want. And one such desire is one of the most expensive golf clubs.
This set is the company's most premium model on the market as they embody the concept of pushing the limits of iron performance, design and manufacturing with no cost limits. Each club is $500, making it a heavy purchase but well worth it.
CHECK OUT: The Tiger Woods Memorabilia Worth Big Money in 2023: Autographs, Rookie Cards, and More
Honma is one of the most famous manufacturers of golf clubs, known for using fine quality luxury materials, and over 400 craftsmen come together to produce some of the best and most expensive golf clubs in the world.
The Honma Golf's Five Star golf club features 24-karat gold plating and Pt1000 platinum as well. One club in this set is worth $5,400, and the entire set will set you back by around $75,000.
All the clubs are handcrafted, and there is a waiting time of two months to get yours delivered.
11. Adams Golf Tight Lies Spin Control, $8,500
This golf club comes from texas-based golf club maker Adams Golf. This company specializes in making customized golf clubs for specific players.
With the involvement of Tiger Woods' coach Hank Haney, the company produced the Tight Lies line of golf clubs. The Spin Control club from this Tight Lies line of golf clubs is the most expensive one, having a price tag of $8,500.
10. Gemspot OM 5 Deluxe Diamond, $10,000
The next golf club that makes an entry into the five-figure most expensive golf clubs list is the Gemspot OM 5 Deluxe Diamond. Worth $10,000, this golf club is manufactured by the GemspotJewelled Putters Company.
The clubs have a unique look with the addition of five diamonds to high-quality top-performance equipment. While the addition of these gemstones may not make you win the game, it will make you the envy of others on the golf course for sure.
9. Bentley Centenary Set, $14,610
The British Luxury car company celebrated its anniversary with creating a special golf club set. They feature centenary gold woven into carbon fiber and replicas of the unique wheel center caps from the famous EXP Speed 8 winning Le Mans car.
Unfortunately, these were limited edition, only producing 100 sets, which means they're currently sold out. Using a combination of industry-leading materials including carbon-fiber, titanium and aluminum, these sets are some of the most luxurious and most expensive golf clubs.
8. Scotty Cameron Tiger Woods Stainless Masters Winner, $20,000
This is a limited edition golf club, and only 21 units of this were produced.
The clubs are molded from copper and brass and are just like the golf club that Tiger Woods used in his outstanding victory in 1997.
If you want to buy even a single club from this set of 21 special clubs, it will set you back by $20,000.
READ MORE: 5 Best Sports Cards To Invest In 2023
7. Palmer Patent Fork Shaft Wood, $49,000
Everyone knows that Spalding is a name to be reckoned with in the sports industry. While most people know it to be the maker of basketballs, the company also used to manufacture golf clubs.
The Palmer Patent Fork Shaft Wood was sold for a whopping $49,000 at a Sotheby's auction in 2007. The club was a part of Jeffrey B. Ellis' personal collection. The head of this club was nicknamed 'The Spalding.'
6. Long Nose Scraped Golf Club, $91,000
The Long Nose Scraped Golf Club is one of the most expensive golf clubs in the world.
Dating back to the 18th century, this golf club, in a very well-preserved condition was sold at the unimaginable price of $91,000 at a Sotheby's auction in 2007.
5. Golden Putter First Lady Special Edition, $150,000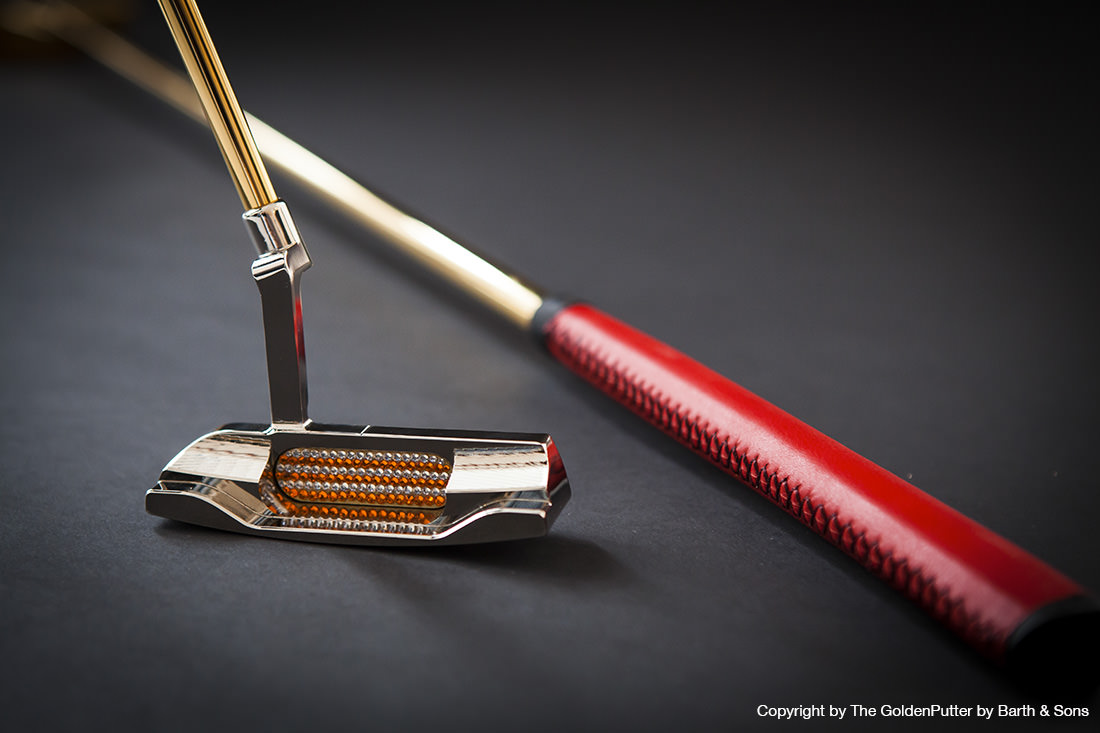 The unique Golden Putter First Lady Special Edition golf club comes at an extraordinary price – $150,000.
The club is made from cherry wood and has a thin coating of 24-karat gold on the shaft. There are diamonds encrusted on the club, it has a leather grip, and the club head has crystal decorations.
4. Simon Cossar Fruitwood Metal Headed Blade Putter, $165,000
This is one of the legendary creations of Simon Cossar, the first golf club maker to sign his name on his products.
The club features a metal-headed blade putter, a shaft made from rare fruitwood, and a complementary fastened hozel.
This antique golf club is the second most expensive golf club in the world and was sold at an auction for $165,000.
3. Andrew Dickson Long-Nosed Putter, $181,000
The Andrew Dickson Long-Nosed Putter is the most expensive golf club in the world. Sold at an auction for $181,000.
This is the oldest verified golf club in the world. The club has a stamp of Andrew Dickson and dates all the way back to the 1700s.
2. Tiger Woods' Backup Platter, $393,000
The Titleist putter that has been in Tiger Woods' bag for almost all of his 15 major championships sold through Golden Age Auctions for a hefty price of $393,300 August 2021. This is one of the most iconic sports memorabilia fans of the athlete and sport can get.
The putter is a Scotty Newport II Putter produced by Scotty for Riger at the height of his career. In a previous interview, the putter was originally valued at around $3 to $5 million, so thankfully the putter was gifted to a collector in a more decent price.
RELATED: 10 Most Popular American Football Teams and Why
1. "Tiger Slam" Irons and Wedges, $5,156,162.40
Another auction at the Golden Age Auction surrounding Tiger Wood is his Tiger Slam Winning Irons. Reaching an extravagant price of over $5 million, this item sold April 2022. These irons and wedges were used by Tiger Woods in 2000 and 2001 including capturing four consecutive Major Championship titles, known as the Tiger Slam.
These are probably one of the most unique sports memorabilia that you can find today, as well as one of the most expensive golf clubs to have been auctioned. This is without a doubt one of the most exceptional pieces that any collector could get their hands on, whether you're a fan of the athlete or sport, or just a fan of unique pieces.
Which Brand of Golf Clubs Are the Most Expensive?
Due to the Tiger Woods name associated with Scotty Newport, they're often seen as one of the most expensive brands, and that's shown from the auction that was held in 2021 for Tiger Woods' backup putter.
What Are the Most Expensive Golf Irons?
One of the most expensive golf irons that you can find right now are the Cobra Golf Men's King Copper Iron set which is priced at $1,258.53 on Amazon currently.
Best Golf Club Brands
If you're looking for some of the best golf club brands without spending all of your money to look like the pros, these are definitely some that you should consider.
While they're included in the entries above, you should know that they do have several affordable options that make great beginner or intermediate clubs for those looking to get into the sport, or just don't want to make the leap just yet to high price tag options.
Titleist has irons at around $175 starting out. TaylorMade has some starting at around $240, and Callaway for around $99, making them a better choice than the ones listed above.
Conclusion
Golf is an intense sport that has some die-hard fans and some of the most well-known athletes. While it might not be everyone's favorite game, it really is one that you can't seem to stop watching. And surprisingly, you can spend quite a pretty penny to get ahold of some of the best golf clubs around.
Whether you're an amateur who enjoys going on the weekends, or an athlete working their way up the ranks, these are definitely some brands and sets that you might want to consider. While some are hard to get ahold of, or impossibly rare, others are great options if you're trying to look like the pros.