10 Most Valuable Vinyl Records Ever Including Singles, LPs, And One-Offs
If you are interested in records, then you know just how expensive some of them can be in today's world (I'm still feeling it after paying almost $500 for an Eddie Hazel, Game, Dames, and Guitar Thangs early pressing).
And as the debate over what some experts call the world's most valuable vinyl record rages, from limited-editions, and signed records, to all the others that are worth 100x their weight in gold for collectors, this is the bonafide top 10, based on what people have paid so far:
CHECK OUT: 5 Vintage Turntables Perfect For The Audiophile Collector.
'Do I Love You' by Frank Wilson, Sold for GBP $25,742 ($35,000)
This vinyl record is a single by American soul singer and producer Frank Wilson. It was sold for a massive GBP £25,742 at an auction in May 2009. Which is around $35,000.
There were said to be only 250 copies of this single, out of which only about five are said to have survived, while the rest were destroyed by Berry Gordy, the Motown boss.
'Alcohol and Jake Blues' by Tommy Johnson, Sold for $37,100
This was a 78-rpm blues record that fetched over $37,000 in an auction in 2013. It was purchased by an Oregon-based record collector. This extremely rare copy of 'Alcohol and Jake Blues' was released in 1930.
CHECK OUT: 5 Pieces Of Lost Music The World Would Like To Rediscover.
'Caustic Window' by Aphex Twin, Sold for $46,300
It is essential to understand that most of the records on this list are valuable because of age and rarity. And in 2014, this lost Aphex Twin's record appeared in the top 10 most expensive vinyl records list as this allegedly lost record was sold for $46,300.
The record was purchased by Minecraft creator Markus Persson.
'Til There Was You' by The Beatles, Sold for GBP $77,500 ($100,000)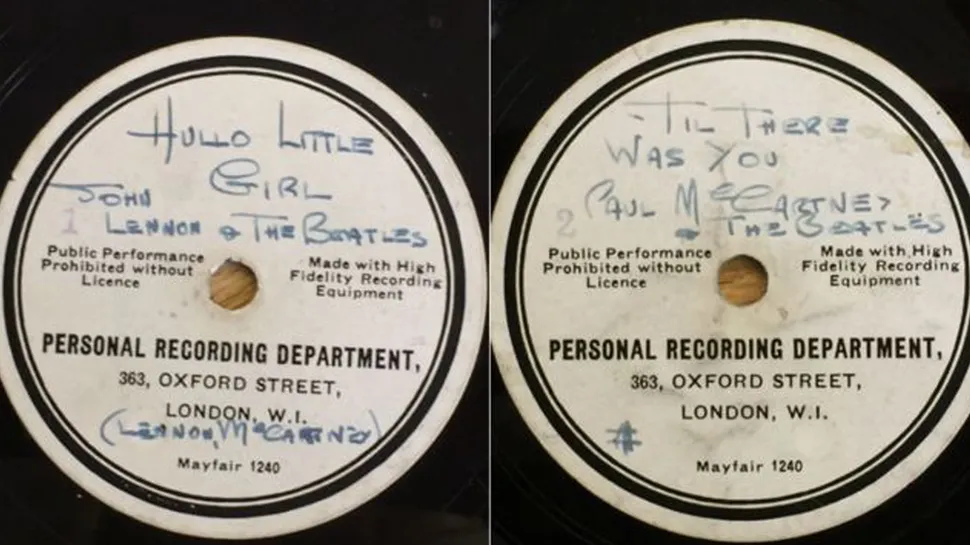 This 10-inch acetate is touted to be the 'Holy Grail' for all collectors of Beatles records. This was an early demo that the group created and featured two songs – 'Til There Was Your' and 'Hello Little Girl,' which was misspelled on the record and appeared as 'Hullo Little Girl.'
Amazingly, the record was actually found simply languishing in the attic of Les Maguire, who was a keyboardist for Gerry and The Pacemakers. He came to possess the record during his tenure on the band.
This record, described as being the record that launched The Beatles, was sold to an anonymous buyer in March 2016 for GBP £77,500 ($100,000).
CHECK OUT: 5 Vintage Guitars Every Musician Should Want In Their Collection.
'Yesterday & Today' by The Beatles, Sold for $125,000
Another rare vinyl record that finds its way onto this list is this compilation by The Beatles from 1966. This record was released only in North America, followed by Japan. The record was never released in Europe.
The record is famous for its scarcity because it was only in the earlier versions was the infamous 'butcher' cover featured. It had Paul, John, Ringo, and George all draped in pieces of meat and dismembered dolls.
Due to the outrage, the cover was quickly withdrawn and replaced with a much more tame cover. Nevertheless, the original record with the 'butcher' cover still remains a very much sought-after item, especially for Beatles collectors.
A mint edition sealed copy of this record was sold at auction in 2017 for $125,000.
'Double Fantasy' by John Lennon & Yoko, Sold for $150,000
This copy of John Lennon and Yoko Ono's 'Double Fantasy' was sold for a whopping $150,000 in 1999 because of a tiny detail that made the record become so valuable.
This vinyl record was signed by John Lennon himself just hours before his death on December 8, 1980. This is believed to be the last record signed by Lennon, thus going on to become of the most expensive records to be ever sold.
CHECK OUT: 5 Rare Concert T-Shirts That Are Worth A Small Fortune.
'Sgt. Pepper's Lonely Hearts Club Band' by The Beatles – Sold for $290,000
This was an original 1967 pressing record that went for such a high price owing to the fact that it was signed by all four Beatles. The record was sold at an auction in 2013 for $290,000 to a buyer from the Midwest in the US.
If you don't have $290k for an original pressing signed by The Beatles, pick up the Sgt. Pepper's Lonely Hearts Club Band vinyl for a bargain $25+.
'My Happiness' by Elvis Presley, Sold for $300,000
This record was purchased for $300,000 by Jack White of the White Stripes, who is known to be a huge vintage vinyl collector. The record sold was the test pressing of Presley's first-ever recording of this song. It was sold at an auction in December 2015.
CHECK OUT: The Best Turntables For Under-$500.
'The White Album' by The Beatles, Sold for $790,000
Beatles drummer Ringo Starr had the very first copy of their self-titled double album from 1968. The copy of the record even bore the number 0000001. This record copy was sold for $790,000 in December 2015 at an auction to an unnamed buyer.
'Once Upon a Time in Shaolin' by Wu-Tang Clan, Sold for $4 Million
In 2015, the one and only copy ever to be produced of this album was sold for $2 million, with a contract that the buyer cannot try to sell or make money from this record for a period of 100 years.
While the contract stipulated that the record cannot be commercially exploited until 2103, it did allow for the buyer to release the album for free if they want to.
However, the buyer was jailed in 2018 and the government took all their belongings, including the album. In 2021, another buyer picked up the album for $4,000,000 worth of crypto. Watch the video above to see the whole story.
ALSO READ: 20 Best Crime Shows of All Time
Conclusion
Introduced in 1931, vinyl records remain one of the top analog collectibles in our digital society:
No matter the growth of music apps like Apple Music, Spotify, and Soundcloud in recent years, the original vinyl records fill store shelves, and many collectors around the world are ready to shell out massive amounts to get their hands on the records they want.