5 Most Valuable Baseball Cards 2000s: Including Cabrera And Trout
Baseball cards in the 2000s continue to attract collectors. Some put it down to fans, others say it is because card manufacturers are constantly making something new to get excited over.
My personal opinion is that it's the constant emergence of new significant talent. Each time a new superstar (or potential superstar) enters the diamond, collectors, and fans go on the hunt for rookie cards and special editions (it is a never-ending cycle).
What makes collecting baseball cards from the 00s so interesting is that card manufacturers moved into a slightly different theme for their cards. Many feature autographs, limited editions, and memorabilia cards. The 5 Most Valuable Baseball Cards from the 2000s are:
CHECK OUT: 5 Most Wanted Baseball Cards 1990s – Including Chipper Jones
Mike Trout (2009 Bowman Chrome XFractor Rookie Card), $7,000 to $16,000
This is a card of an active player. Trout joined the Los Angeles Angels in 2011 and remains there. To date, he has earned 8 All-Star appearances, 3 American League MVP Awards, and several other awards.
His Rookie Card in this set is a limited edition and autographed which puts the price tag on one in BGS 9.5 condition at the whopping value of between $7,000 and $16,100 on eBay. Chances are pretty good that the sellers of these cards will get close to their asking price.
(BGS means Beckett Grading Services, and is a competitor to Professional Sports Authenticator/PSA – no affiliation).
RELATED: 12 Best Sports Movies Of All-Time
Albert Pujols (2001 Bowman Chrome Refractor Autograph #340), $4,000
Pujols started his career in 2001 in St Louis and moved to Los Angeles to play with the Angels in 2012. He is still active on their roster. To date, he has had 10 All-Star appearances, 6 Silver Slugger Awards, and many other honors.
This unique autograph refractor card is worth over $4,000 in excellent shape partly due to the fact that only 500 were produced.
CHECK OUT: 3 Most Valuable Ken Griffey Jr Cards Right Now
Miguel Cabrera (2000 Topps Traded Chrome Rookie Card T40) – $1,750
Miguel Cabrera is another active player on our list. His career started in 2003 in Florida and he moved to his current team, Detroit, in 2008. He has had 11 All-Star appearances, won 7 Silver Slugger Awards, was named the American League Batting Champion four times, and has many other awards.
His Topps Traded Rookie Card in BGS 9 condition is listed on eBay with a price tag of just under $1,750.
CHECK OUT: 5 Most Valuable Baseball Cards 1980s – Including Henderson And Ripken Jr.
Ryan Howard (2003 Topps Pristine Gold Refractor Rookie Card #69) – $150
Howard played for the Philadelphia Phillies for his entire career from 2004 to 2016. During that time, he earned 3 All-Star appearances and was named MLB RBI Leader three times along with other honors.
His Rookie Card is worth $150 and that is considered to be a good price for a card that does not rely on gimmicks (autograph, jersey material) to get noticed.
CHECK OUT: Card Grading 101: PSA vs. Beckett vs. SGC
Ken Griffey Jr/Sammy Sosa (2005 Upper Deck Reflections Cut from the Same Cloth #225) – $35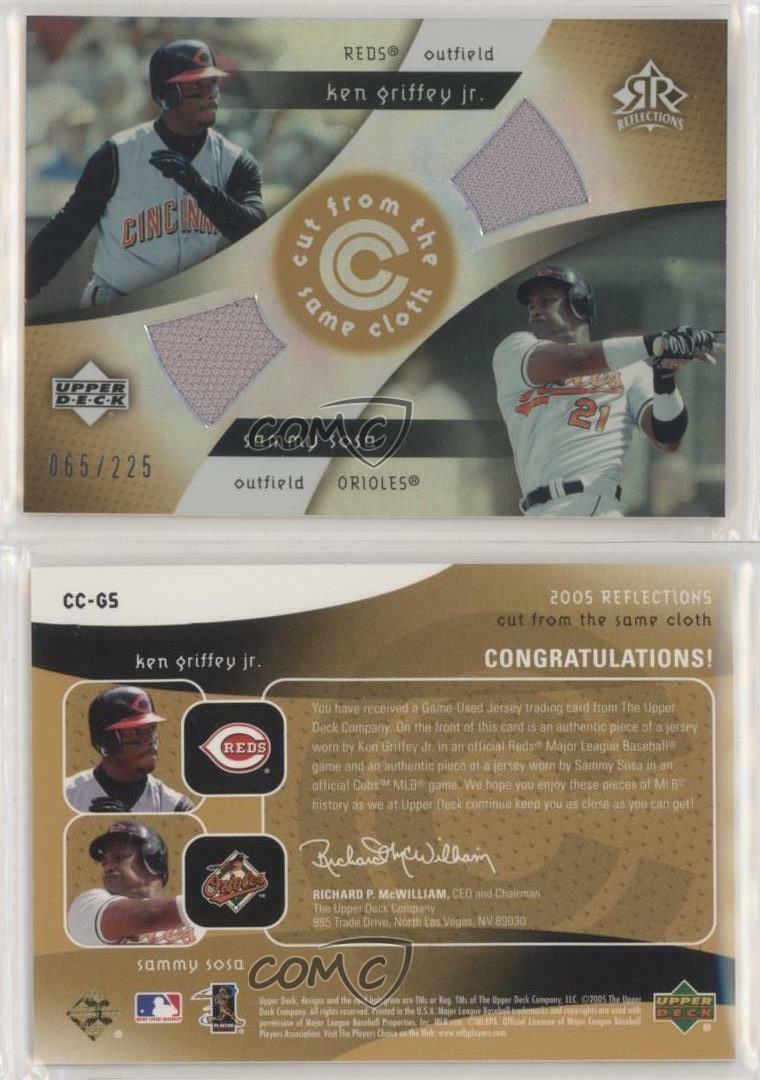 We've gone off-topic with this pick. This isn't the fifth most valuable baseball card from the 2000s, but it is one that collectors (new and old) should snap up while still under-$50.
This limited edition Memorabilia Card contains pieces of two baseball jerseys and is a rare collectible in some circles. On eBay, one of these in excellent condition can be worth up to $35.00.
It is interesting to note that to have a respectable collection of baseball cards, you don't always have to have the oldest cards that were produced in your albums:
Instead, you can focus on special-edition cards from the modern era to build a decent (and valuable) collection. This is one of many reasons why collecting baseball cards remains popular.