Expensive gaming PCs remain the best way to achieve max-out performance and visuals on the most graphically intensive games. The components available range massively in performance, features, and price.
To maximize the framerates, resolution, and graphics, PC players need to pay for the privilege. With a worldwide shortage of semiconductors impacting the availability of components, graphics cards, and gaming PCs are more expensive than ever.
That being said, there are certain builds that go far beyond the expected price range that gamers have come to expect from these powerful machines so let's break down the 10 most expensive gaming PCs on the market today.
CHECK OUT: The 7 Most Expensive Keyboards In The World
10. MSI Trident X, $3,966+
MSI is a major player in the gaming desktop and laptop space, for good reason. With the Trident X, they have worked miracles to pack in an Intel Core i9-11900K, a GeForce RTX 3090 graphics card, and 4 TB of storage space into an extremely slick, slimline case.
It can be yours for the steep price of $3,966+ through Amazon.
9. Skytech Prism II Gaming PC Desktop, $4,269+
When we are kicking off this list with a machine that costs over four thousand dollars, you know it is about to get crazy.
Coming from Skytech Gaming, the Prism II is a beast of a gaming PC that offers an Intel Core i9 12900KS 3.4GHz processor and an extraordinary RTX 3090 Ti 24GB graphics card. Despite the rainbow RGB lighting on display, the case is rather basic compared to some of the other entries on this list and for the price, we would expect a little more flare.
The Skytech Prism II will cost $4,269 on Amazon. 
8. MSI Aegis RS Gaming Desktop, $5,189
Another entry here from MSI with the 2022 version of the Aegis RS with a tower casing. This overpriced system houses an Intel i7 12700KF with 128GB RAM, a whopping 6TB SS and an additional 2TB of storage space.
Pick this one up for $5,189 online.
7. HP Omen 40L, $5,330
HP is a major player in the computing space and its line of Omen gaming machines provides cutting-edge graphics, design, and performance. The Omen 40L at its upper configuration offers Intel i7 12700KF 12-Core processing, an RTX 3060 Ti graphics card, and up to 128GB of RAM.
Customize your Omen 40L up to $5,330 direct from HP.
CHECK OUT: The 6 Most Rugged Laptops – Perfect For People On The Move
6. IPASON Intel 10th Gen Gaming Desktop, $5,699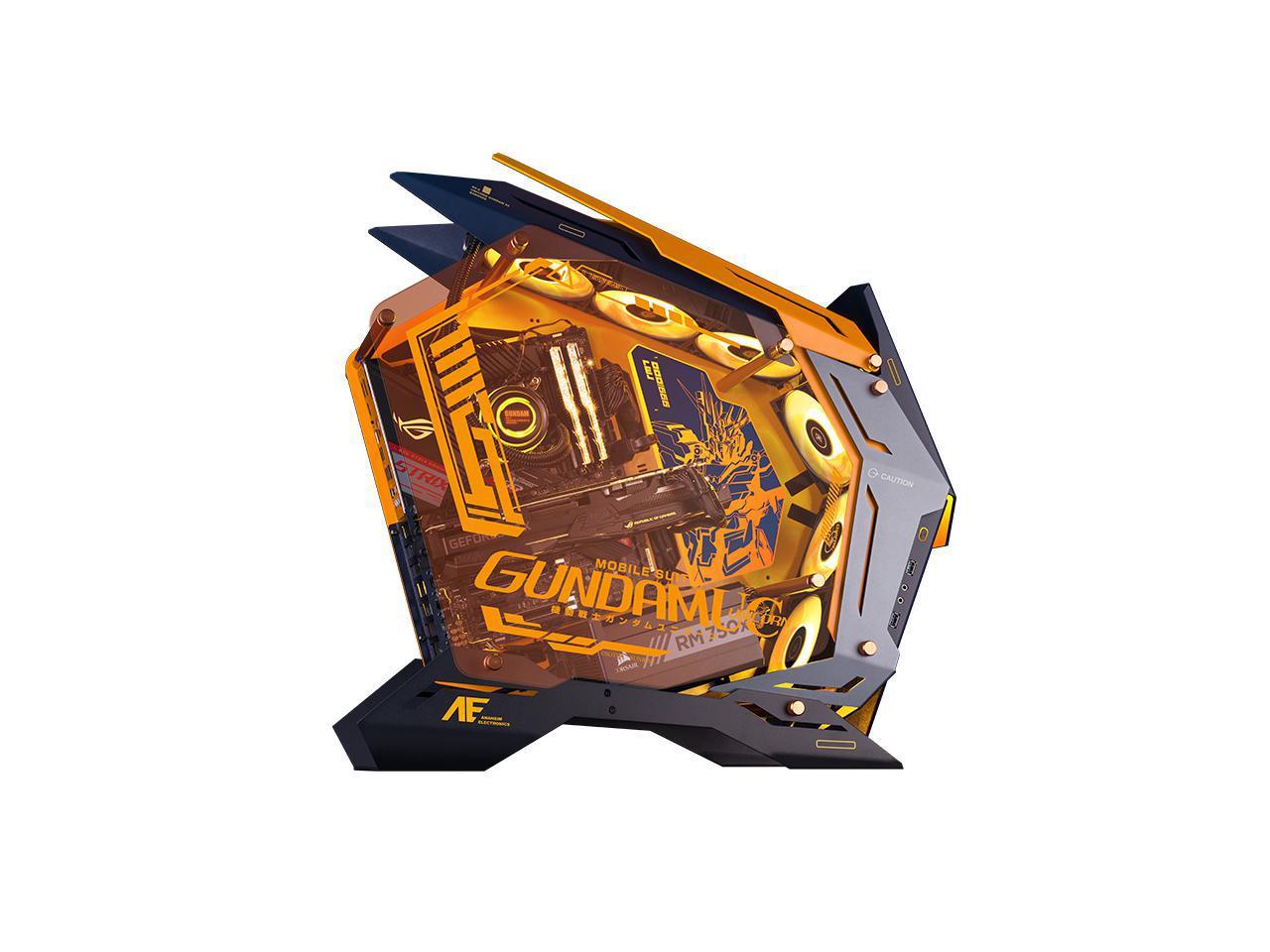 The design of the IPASON is incredibly visually striking, coming with a robotic, Gundam-inspired black casing with orange detailing and RGB lighting built-in.
With a powerful i9 12900KF processor and 16GB of memory, this rig will be as rapid and powerful as the mech suits it draws inspiration from.
The IPASON Gundam will set you back $5,699.99 on Newegg.com right now.
5. MSI MEG Aegis, $6,839
Here is another case that looks absolutely spectacular, again resembling some kind of robotic head. The MSI MEG Aegis range is instantly recognizable with the performance dial front and center that allows you to change the performance mode on the fly to customize your experience for different games or activities.
With three separate cooling chambers, an i9-12900K processor, 128GB RAM, and 6TB of SSD, the Aegis is an absolute powerhouse.
This one will certainly put a dent in your wallet at $6,839 from Amazon.
CHECK OUT: Alienware m15 R7 Gaming Laptop Review – A Maxed Out Powerhouse
4. Thermaltake LCGS, $8,158
Even though we are back to simpler cases, this is not a simple machine. With liquid cooling, an AMD Ryzen 7 5800X 8-Core processor, and an RTX 3090 to boot, the Thermaltake will justify the enormous amount of space it will take up in your room with excellent performance.
You can grab the Thermaltake LCGS for $8,158 today.
3. Velztorm Lux Custom, $8,748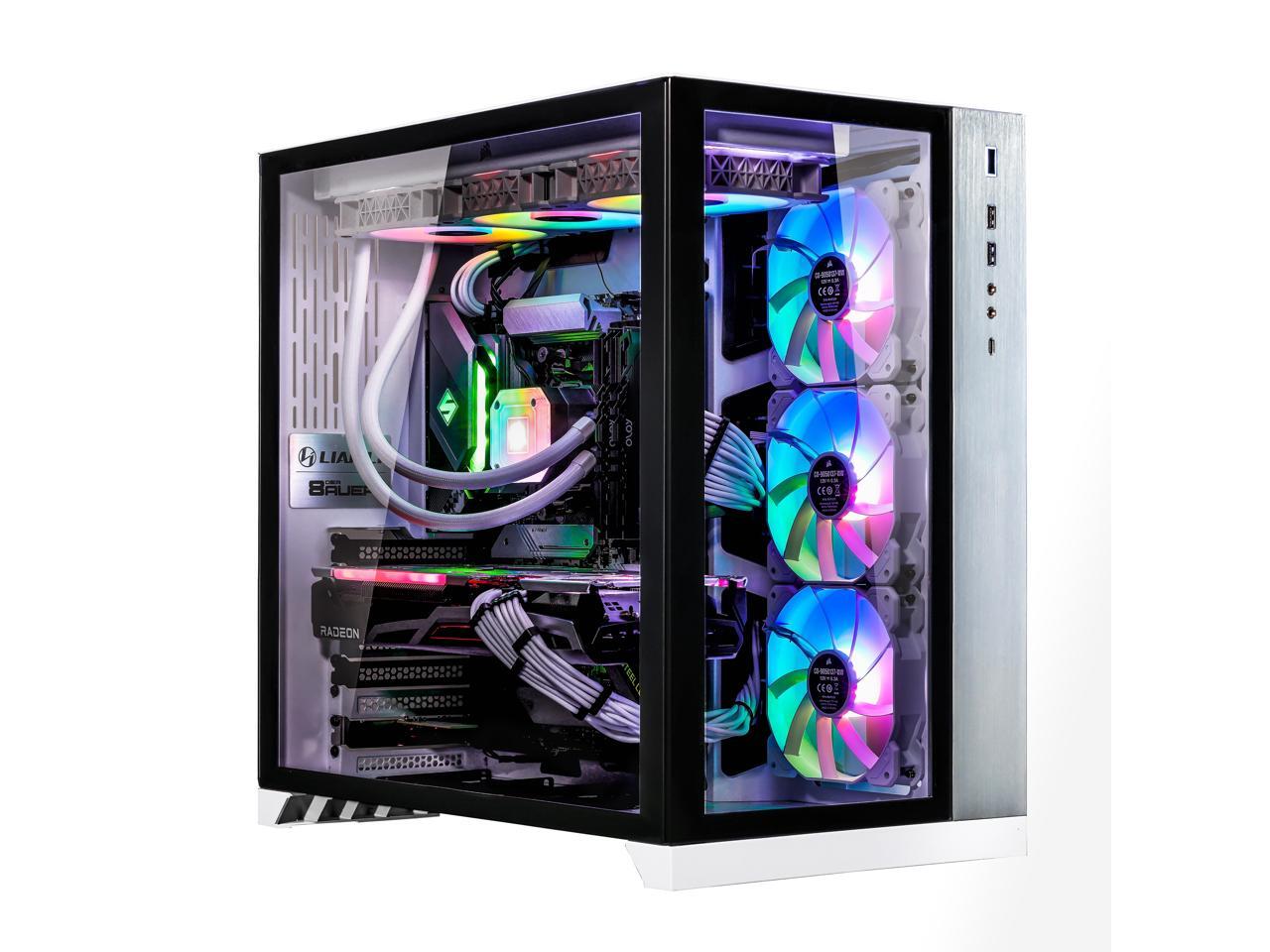 Plenty of entries on this list are gaming PCs where you can customize your components, inflating the price and performance to often unnecessary heights. The same can be said about the Velztorm Lux custom, which can be configured for up to nearly nine thousand dollars.
This particular configuration features a hulking transparent case filled with liquid cooling, an AMD Ryzen 9-5950X 16-Core processor, 4TB of SSD, and an additional 6TB of HDD.
Pick up the Velztorm Lux CTO on Newegg.com for $8,748.
2. Aventum X by Digital Storm, $20,000+
Less bulky than the previous entries, the Aventum X opts for a taller, longer design that does give it a deceivingly sleek appearance. With a beautiful case inside and out, the Aventum X can be priced over $20,000 with an AMD Ryzen Threadripper PRO processor up to 4.5GHz and a GeForce RTX 4090 24GB graphics card. Wow.
Customize and buy your perfect Aventum X on the Digital Storm website for over $20,000.
CHECK OUT: 5 Best Gaming Laptops Under $1,500
1. Overclockers 8Pack Orion X2, $35,512
The 8Pack Orion X2 available from Overclockers is probably the most expensive gaming PC of all time, coming in at well over $30,000.
This built-to-order beast boasts an Intel i9 10980XE @ 4.6GHz as well as an i7 107000K @ an eye-watering 5.0GHz. And if one Nvidia RTX 3090 graphics card wasn't enough, the Orion X2 comes with three of them!
Check out the Overclockers website to customize an Orion X2 for $35,512.
Share: