21 'The Office' Enamel Pins That Are Better Than Pretzel Day
The Office is one of the best shows ever created; there, I said it. The employees of Dunder Mifflin have warmed our hearts with love and our bellies with laughter, and we've become attached to each character.
Speaking of attached, these pins will ensure you take a part of The Office with you wherever you go. Relive your favorite moments and show your fan pride with this SWAG!
We've compiled a collection of the best 'The Office' enamel pins that will be sure to leave you satisfied and smiling (That's What She Said!).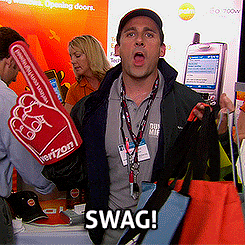 1.
Stapler in Jello Hard Enamel Lapel Pin
Where else to start than the beginning of Jim and Dwight's beautifully bizarre frenemey'ship?!
We all remember the moment Jim put Dwight's stapler in a big pile of Jello, and we got to see the first of many pranks to come between the two. Not to mention, we were all introduced to the now-classic 'Jim Face.'
This enamel pin is a subtle and funny way to salute The Office and will be a hilarious nod to other office fans you come across while wearing it!
[amazon box="B074G4KY69″]
2.
World's Best Boss Office Enamel Lapel Pin
When we realized Michael Scott bought himself his own 'World's Best Boss' mug, our soles died a little. This pin would be a great gift for a boss that loves the office. We also won't judge you if you buy it for yourself.
Either way, this cute mug pin is another perfect addition to your Dunder Mifflin swag.
[amazon box="B078HSNC9V"]
3.
Kevin's Famous Chili Enamel Pin
One of my favorite and most cringe-worthy office moments. Kevin's famous chili never has the chance to wow Dunder Mifflin. After hard work and culinary craft (the key is undercooking the onions), the chili takes a tumble on the office carpet.
There's something about the brown sludge spilling everywhere that makes you want to laugh and cry at the same time. So, attach this precious moment to your hat, shirt, or backpack, and relive the memory every single day.
[amazon box="B07N3N4QC6″]
4.
Prison Mike Enamel Pin
Prison Mike is a character we all wish we could justify being okay with, but never will. It's clear Michael Scott has spent some hard time in the clink.
As with many things in the office, Michael tries to relate with his employees in a very inappropriate way. The benefit for us? Those awkward moments that we live for.
This pin will remind you that if you do the crime, you do the time.
"The worst thing about prison was the… was the dementors."
[amazon box="B07C95LTGN"]
5.
Green Teapot Enamel Lapel pin
This sweet teapot will make us all instantly sob over the famous office Christmas party. Jim picks Pam in the gift exchange and fills the teal teapot with little trinkets and a letter.
This iconic teapot is an adorable pin tribute to one of the greatest love stories told on television.
[amazon box="B07DF6FQNP"]
6.
Schrute Farms Beets Enamel Pin
My dream vacation is a stay at Schrute Farms. What's not to love? The quaint sounds of nature, Mo's always creeping up beside you, and the faint moans of Dwight Schrute.
This enamel pin says 'Schrute Farms' and features their (world?) famous beets.
[amazon box="B07N5FQ51C"]
7.
That's What She Said, Enamel Pin
A mashup of the office sign with the infamous words of Michael Scott. Michael's inappropriate catchphrase has become a common clap back to words begging for innuendo.
This pin will make you smile, and you can stick it just about anywhere… That's What She Said!
[amazon box="B07RHWGNMK"]
8.
Dwight, You Ignorant Slut Pin
Another inexcusable moment that we love anyway. Michael is trying to give the crew a lesson about depression when Dwight chimes in to help.
The response is priceless, and this pin will help you be ridiculed everywhere you go by those not familiar with The Office.
[amazon box="B07L22RV27″]
9.
3-Hole Punch Halloween Jim Halpert
We love Jim's lazy Halloween costumes; they're just so… Jim!
To be honest, I thought he was supposed to be a domino, but 3-hole punch Jim makes much more sense. It's slightly lazier than a domino!
Although I'm waiting for the pin version of nametag Jim and Popeye Jim, 3-Hole Punch will work for now!
[amazon box="B07W86TN6L"]
10.
The Office Building Painting
This one brings a tear to the eye. Pam entered a hand-drawn picture of the Dunder Mifflin office building in an art show, and Michael loved it so much he ended up buying it.
By far, one of the best moments of The Office. They even give the nod to it in the final scene of the last episode.
This piece of swag will mean a lot to any Office fan.
[amazon box="B07DFCHFRX"]
11.
Stanley Hudson Playing Basketball
There's a lot of things we could say here, but the bottom line is Stanley cannot play hoops. The shocking moment we watched Stanley dribble the ball made us feel better about ourselves.
It was awful, awkward, and we died with laughter. Why not wear this moment on your shirt or shoes?
[amazon box="B07RLVW86B"]
12.
Dwight Schrute Mask Enamel Pin
Ah, ha, ha, ha, stayin' alive, stayin' alive. The first aid episode of The Office lives on my top 10.
When the CPR dummy is pronounced dead do the employees stupidity, Dwight Schrute steps in. He immediately begins to harvest the non-existent organs from the doll. The scary thing is we don't think twice about Dwight having a colossal knife attached to his leg.
In a serious to silly turnaround, Dwight begins a face-off type maneuver with the dummy and appears wearing the silicon skin on his own face. Just another day in the office.
[amazon box="B07H48N67S"]
13.
Scranton the Electric City Enamel Pin
Scranton, what?! The Electric City! The music video heard around the world brought to you (again) by Michael Scott and Dwight Schrute.
The video is amateur, raw, full with passion… and whiteness.
"Sittin' in my office with a plate of grilled bacon
Called my man Dwight, just to see what was shakin"
Just be careful where you attach the pin, it can cause a lack of rhythm.
[amazon box="B07Q5WFDJK"]
14.
Did I Stutter Crossword Puzzle Pin
The moment Stanley snapped really scared me. The fear lasted briefly, and then laughter followed. Stanley seems to be okay with standing up to Micahel's shinanigans, and the office can't believe it.
The lesson here is never messing with someone and their crossword puzzles, especially if it's pretzel day.
This creative enamel pin spells out 'Did I Stutter' as the answers to a crossword puzzle.
[amazon box="B07HY6H315″]
15.
Andy Bernard Sumo Enamel Pin
Beach Day! After being defeated by Dwight in full sumo costumes, Andy Bernard goes down to the lake to soak his bandana in the water. Slipping, he falls right into the lake wearing his buoyant sumo outfit.
In a savage move, Angela pretends that Andy isn't in trouble, and lets him float away. Later on in the episode, we find out that Andy is still lost at…lake, in the dark.
Pay homage to Andy's bravery by bearing this icon of his struggle.
[amazon box="B07N1BJV15″]
16.
Dwight Pervert Wanted Poster
Phyllis gets flashed in the parking lot.
Dwight to the rescue again, but he ends up being the butt of another office prank. When he asks pam to complete a drawing of the perpetrator, she draws something closely resembling Mr. Schrute himself.
Dwight doesn't realize he's the 'pervert' on the wanted poster until he looks at himself in a mirror and notices the resemblance.
Help spread awareness of the pervert by wearing this pin!
[amazon box="B07DF7NBFH"]
17.
Vampire Jim 'Bye, Dwight'
There's a bat in the office. Jim pretends he got bit and is experiencing vampire-like symptoms. Dwight believes in vampires.
Jim ends his convincing performance with a chilling 'bye Dwight.'
A pin for the darker office fans.
[amazon box="B07Q8F7H1N"]
18.
Bears Beets Battlestar Galactica
Question: What kind of bear is best?
Jim is impersonating Dwight at the office and somehow encapsulated the entire Schrute sole with this phrase: Bears, Beets, Battlestar Galactica.
This fun lapel pin has an unmistaken outline of Dwight and his favorite things (according to Jim).
Identify theft is not a joke, Jim.
[amazon box="B07FP14NXM"]
19. Michael Scott
Santa Bond Enamel Pin
"The names bond, Santa Bond. I'll have an eggnog shaken, not stirred."
One of the many characters created by Michael Scott, Santa Bond is all about classing-up your holiday festivities.
(Just make sure to use your Sean Connery voice when showing the pin to others)
[amazon box="B07P8TWB2H"]
20. Dunder Mifflin Paper Company Enamel Pin
The classic Dunder Mifflin Paper Company sign in tiny enamel pin form. What could be better than this? Maybe a Michael Scott Paper Company pin? Nah.
A cute pin that will let others know you're part of 'The Office' club.
"Call michael and stanley…jim, dwight, creed….call andy and kelly….for your business paper needs….dunder mifflin…people person's paper people"
[amazon box="B07K4VCH3M"]
21. William M. Buttlicker Pin
Another one on my top 10 list. Mr. Bill M. Buttlicker (Jim) tests Dwight's sales skills in a fake call. The call ends up going horribly (funny) for Dwight, and then Michael comes in to save the (fake) sale.
The scene is such a ridiculously perfect summation of the spirit of The Office. This Buttlicker pin will give you the confidence you need every single day.
[amazon box="B07DF9RR1C"]
---
Read Next: 11 Times We Fell In Love With Jim Halpert And Pam Beesly