Even the most cynical of cynics can't say romance is dead after watching "The Office." The iconic Dunder Mifflin lovebirds still captivate fans of the comedic show years later, and Nerdable is here to remind you why.
Here are 11 times we totally fell in love with Jim and Pam (in no particular order of cuteness)
1. When Pam Walked Across Hot Coals During the Beach Games and Admitted Her True Feelings
A work trip to the beach planned by the one-and-only Michael Scott? We'd expect nothing less than hilarity to ensure. However, the goofy episode takes a sentimental turn when Pam musters up the courage to take on one of Michael's challenges and walk across hot coals. This small act of bravery summons new courage in Pam, and she *finally* tells Jim how she feels, even though he's in a relationship with Karen. Bye, Karen!
2. When Jim Casually But Not-So-Casually Asked Pam Out to Dinner
It only took three seasons, but we cry tears of joy each time we rewatch this tender moment between our favorite Scrantonites. Pam is mid-interview with the camera crew when Jim asks, "Are you free for dinner tonight?" CUE THE DAWN OF A NEW ERA!
3. When There Was That Two-Part Episode About the Wedding
These two deserve some time away from Scranton, but they're definitely not getting away from those pesky coworkers! The entire gang heads up to Niagara Falls for the much-anticipated wedding in one of our very favorite episodes. Amid the chaos of their special day, there are plenty of sweet moments — including the couple's sneaky knot-tying before the actual ceremony!
4. When They Had Cecelia Marie Halpert (and, Fortunately, Not Little Michael Scott)
BECAUSE JIM AND PAM HAD A BABY. Spoiler alert: They have another one, too!
5. When The Dundies Happened
Remember that time in season two when drunk Pam felt "God in this Chili's tonight" and won the Dundie for "Whitest Sneakers?" Remember when drunk Pam also had her first kiss with Jim? We do too.
6. When Jim and Pam Had Their First Date
If the first date with grilled cheese and fireworks isn't #goals, then we don't know what is. After years of playful banter and missed opportunities, Jim and Pam finally take their first step toward being more than just friends.
7. When Jim Got Pam for Secret Santa
Our favorite Dunder Mifflin hunk purchases his (unofficial at this point) boo a teapot filled with personalized trinkets. The Christmas party takes a turn for the worst as Dwight steals the gift and plans to use it as a Neti Pot, but all in all, it leads to some pretty sweet moments.
8. When They Co-Prank Dwight
Jim has long been the prank master when it comes to messing with Dwight, and we know that Pam is officially his soulmate when she gets in on the shenanigans. Said shenanigans range from posting Dwight's resume online for job opportunities in Alaska to convincing him that he has telekinetic powers.
9. When They Finally Tell the Office They're Dating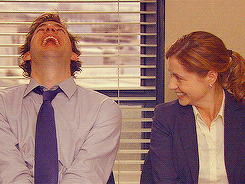 While they're kind of outed by Toby (ugh, Toby!), we can't help but adore the moment Jim and Pam finally go public. After a few seasons of watching their not-so-subtle flirting, the Dunder Mifflin crew can finally confirm these two are official.
10. When Jim Gives the Camera a Sneak Peek of the Engagement Ring
Grab your tissues. Jim has had the ring since the very first week he and Pam started dating. It would be creepy from anyone but you, Jim!
11. Whenever Jim Is Wholeheartedly Convinced He and Pam Were Meant to Be
Example A: Jim reveals Plan A.
Have a favorite Jim and Pam moment? Tell us in the comments below…
Share: