7 Most Expensive Keyboards In The World
Keyboards may seem like just regular plain computer accessories that you don't give a second thought about. But there are plenty of people out there that spend exorbitant amounts of money on their keyboards. Let us look at the most expensive keyboards out there:
7. Kirameki Pure Gold Keyboard, $360
The name gives it away. The Kirameki is made with 100% pure gold. Made by Wazakura Studious from Japan. The Kirameki Pure Gold keyboard comes with 86 keys and an adjustable base for a better typing experience. You can get the golden typing experience for about $360, a snip compared to the other keyboards on this list.
CHECK OUT: 5 Best Controllers For PC That You Can Buy Right Now
6. Optimus Popularis, $695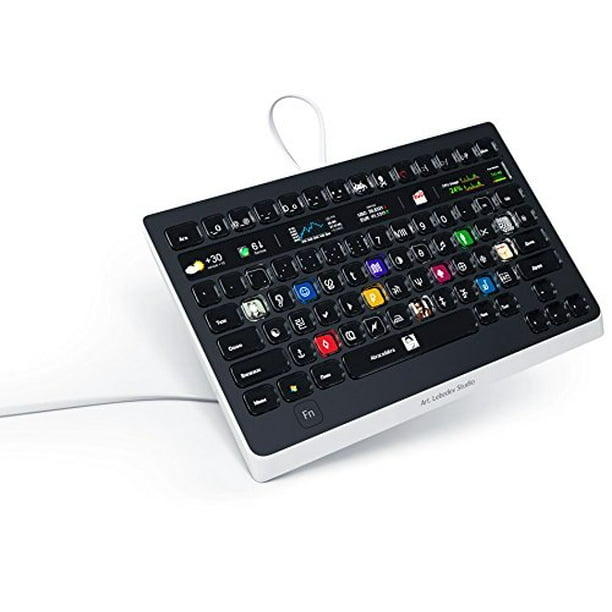 The Optimus Popularis is a compact keyboard with each key displaying a particular image. It can be programmed to display any image and any function on its keys. It was made by a Russian design studio called Art. Lebedev Studio. It can come in handy for people looking to work in creative arts where people like graphic artists or musicians can use the flexibility it offers to their advantage. This keyboard costs $695 from Walmart.
5. Professional II Datahand Keyboard, $700 – $1,900
At first glance, this device may not even look like a keyboard. But it actually is. The Professional II Datahand Keyboard was designed by Dale J Retter and is manufactured by Industrial innovations.
The keyboard itself consists of two separate devices, one for each hand. Each of your fingers activates five buttons. By moving your fingers, you select the letter you want. It is a very unconventional keyboard but looks pretty cool, nonetheless.
The first Data Hand came out back in the 90s. So, these are very rare these days and you'll probably find someone selling these on eBay for somewhere between $700 to $1,900.
CHECK OUT: 10 Antique Typewriters Worth Thousands Today
4. Maltron Executive Keyboard, $920
The first thing you will notice about this keyboard is the unconventional layout. The keyboard is divided into sections and it curves toward the outside. This is because the creators of this keyboard Lilian Melt and Stephen Hobday had comfort in mind. According to them, they reduce stress on fingers, wrists, and arms while typing.
You can sit and type on this keyboard all day without getting tired. The keyboard is priced at about $920.
ALSO READ: 5 Best Universal Remotes In 2023
3. Datamancer Seafarer Keyboard, $1,200 – $1,500
Datamancer is known for its custom-built keyboards that can range from keyboards with jeweled LED lights to chrome keys and brass frames.
Since these are custom-made, they vary in price. However, if you want a Seafarer Keyboard expects to pay between $1,200-$1,500.
CHECK OUT: The 6 Most Rugged Laptops – Perfect For People On The Move
2. DT-2000-IS, $2,200
This keyboard is straight-up hardcore military-grade hardware. Made by stealth.com, the DT-2000-IS keyboard is designed to be a long-lasting and highly durable keyboard. You can take this peripherical to places no other keyboard has been.
This keyboard functions at temperatures of -40C to +90 C. It is made with enclosed noncorrosive stainless steel with an isolated barrier that meets the NEMA 4x protection standards.
You can expect to pay somewhere around $2,200 for these lines of keyboards by Stealth.
CHECK OUT: 10 Amazing Walmart Tech Deals This Week
1. Happy Hacking Keyboard HP Japan, $4,440
The folks at @PFU_HHKB also exhibited 3 super rare models, one of which was the $4,400 Happy Hacking Keyboard HG Japan with keys coated in Wajima lacquer (from PFU's prefecture, Ishikawa). Only 50 units were made! @Trixxy wrote about it back in 2006: https://t.co/zeG6CzmdQZ pic.twitter.com/1tNYeuV9uU

— Richard Lai (@richardlai) December 14, 2019
The most expensive keyboard on this list is the Happy Hacking Keyboard Professional by HP Japan. This keyboard is a custom-made keyboard that is hand coated with Urushi Lacquer.
Made by PFU Ltd Ishikawa Japan, an affiliate of Fujitsu, the keyboard is varnished with Japanese lacquer in the native Urushi art style. And then coated with gold dust.
You can expect to pay $4,440 to get your hands on this keyboard.