10 Most Expensive Headphones Today: From $1.2k To Six-Figures
(Credit: crinacle.com)
Whether listening to your favorite podcasts or working out to a motivational playlist, a good set of headphones has become a must-have accessory:
And while some headphones are made for comfort, others offer superior performance and features. Let's take a look at the 10 most expensive headphones and see what they offer:
CHECK OUT: 5 Best Noise-Canceling Headphones For Under $100
10. Audio-Technica ATH-W5000, $1,200
First up on the list is a $1,200 set of Audio Technica headphones. They are certainly expensive but not at the obscene levels of cost that we will see down the list.
The price is high because of the magnesium-alloy frame and 8N-Oxygen Free Coils. These headphones are top-of-the-line for audiophiles.
9. Astell & Kern Layla AION, $3,499
The Astell & Kern Layla AION comes with 12 balanced armature drivers in each earpiece. These are housed in 3D-printed sound chambers to ensure maximum dynamic range and a high-quality sound experience.
The wire on these is a silver-plated OFC Litz cable with a seven-pin connector to make sure you have a reliable headphone experience. These will cost about $3,500.
RELATED: 5 Best Surround Sound Movies
8. Audeze LCD-4, $4,000
These may set you back $4,000, but people with deep pockets prefer the quality design and comfort that Audeze offers.
These headphones come with a suspension headband, nano-grade diaphragm, double fluxor magnetic arrays, and a travel case. All of which is guaranteed to make your listening experience out of this world.
7. Final Audio Design Sonorous X, $4,500
The Sonorous X comes in a fur-lined wooden box and a price point that'll lighten your wallet by $4,500.
The headphones are made with sturdy stainless steel and aluminum covered with gold leaf. The leather in the earcups is of the highest quality. These headphones are definitely luxurious.
Inside, the sound comes from 50mm titanium drivers that are sure to make your ear dreams jump with excitement.
CHECK OUT: The 10 Most Expensive Phones Ever Made
6. Warwick Acoustics Sonoma Model One, $5,000
If you have the cash and are looking to seriously invest in amazing headphones, then the Warwick Acoustics Sonoma Model One might just be what you are looking for:
For a cost of $5,000, you get a pair of open-backed electrostatic headphones with a dedicated energizer amplifier. These headphones are a treat for the ears.
5. Abyss AB-1266, $5,495
The Abyss AB-1266 has 66 mm planar magnetic speaker drivers that deliver stunning audio quality. Made with an all-aluminum frame and luxury ear pads, the build quality is second-to-none.
These headphones will set you back $5,495, but for some, the quality drivers are worth the price.
CHECK OUT: 5 Best Studio Headphones For Mixing And Mastering Music
4. V-Moda Crossfade M-100, $40,000
Now we are entering the big leagues. The V-Moda Crossfade M-100 will set you back $40,000. Yes, five figures for a pair of headphones.
So what do we get for the $40-thousand? The V-Moda Crossfade M-100 is made with the precious metal of your choice. So think of anything like silver, bronze, gold, or even platinum.
Most of the price comes from the custom shield on the outside of the headphones.
CHECK OUT: The Best 8K TVs You Can Buy Right Now – From $3,000 To $30,000
3. Sennheiser Orpheus/HE 1, $68,000
Sennheiser is known for making top-quality headphones. But these take it to a different level. The Orpheus is fully customizable to its owner according to Sennheiser.
They come with their own valve amplification. The chassis is made from Carrara marble, the same type Michaelangelo used for his sculptures. The build quality alone would have been worth it, but the headphones are also some of the best available right now. But be ready to pay $68,000 for these.
2. Onkyo H900M 20-carat Diamonds, $80,000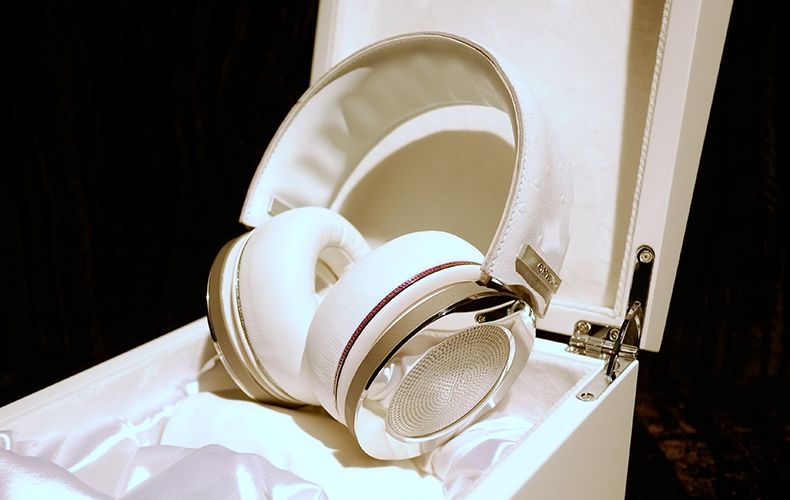 When you want to make a fashion statement, the Onkyo H900M 20-carat Diamonds definitely turn heads. Coming in at $80,000, these luxury headphones come packed with diamonds in the ear cups and rings of rubies.
CHECK OUT: The Best Soundbars For A Cinema Experiences On Any Budget
1. Focal Utopia by Tournaire, $120,000
The most expensive headphones on this list are the Focal Utopia by Tournaire. Coming in at a whopping $120,000.
These also come with diamonds embedded all around the headphones. Along with other expensive gemstones and gold.