Credit: Pxfuel.com
Believe it or not, military watches are highly collectible and easy to distinguish from other types of watches.
In summary: Military watches feature a round appearance and contain large easy-to-read luminescent numerals.
They will also have a 24-hour track to assist when on an all-night operation, plus their cases aren't shiny:
(As that could reflect light and blow your cover).
There are three main categories of military watches. They are as follows:
Field Watches: These are basic in design and have three hands (hour, minute, second). These are the cheapest of the bunch.
Pilot Watches: These contain more accurate movements, bigger dials, and more bells and whistles.
Diving Watches: These have such extras as a unidirectional bezel, lume, and are water-resistant to depths ranging from 500-feet to 3,000-feet.
CHECK OUT: A Beginners Guide To Collecting Vintage Movie Posters.
5 Collectible Military Watches:
This is a highly-popular watch:
It incorporates Swiss movement with an anti-reflective sapphire glass. The case is a glass-fiber-reinforced polymer with a stainless steel container. The bezel is uni-directional, PVD-coated stainless steel and the dial is black and easy to read day or night.
It is also water-resistant and happens to be the watch used often within the British military.
It is so popular that servicemen and women tend to purchase one of these for themselves.
This is an excellent example of a top-quality diving watch.
It is water-resistant to 900-feet and features a satin and polished two-piece Ministry of Defence hardened stainless steel case. The internal bezel is uni-directional and the back features an engraving of Her Majesty's Armed Forces Heraldic Badges.
The dial is black and easy to read and comes complete with a navy blue sailcloth strap that is durable and long-lasting.
CHECK OUT: 5 Vintage Horror Movie Posters Worth More Than My House.
This is a vintage military watch which dates back to the British Ministry of Defence in 1953.
It has a black-and-white dial and an anti-magnetic case. The lume is made from radium and some issues feature a relume job where tritium was used.
The nylon strap gives this collectible some extra-character and makes it a great timepiece to have on display.
This vintage military watch was issued in the 1950s to members of the Royal Canadian Navy.
It features a stainless steel case and a manually-wound chronograph movement. The dial is off-white with black numerals and very easy to read.
It includes a khaki nylon strap that was designed to be strong and comfortable.
CHECK OUT: 5 Basketball Card Values That Will Leave You Speechless.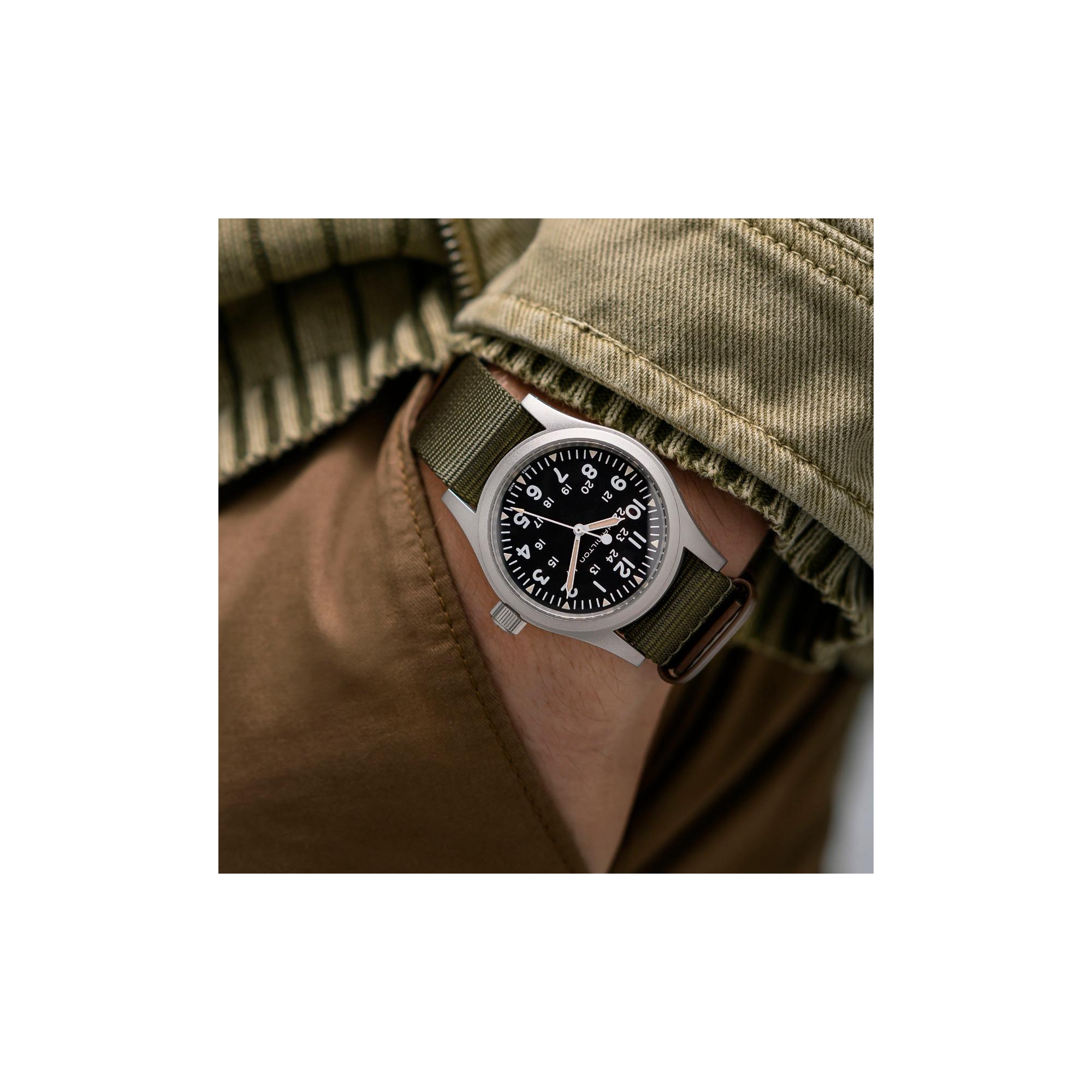 This vintage military watch was made for the US Navy and about 10,000 of them were issued during World War II.
The khaki strap is durable and easy to wear. The movement requires hand-winding but will keep reliable time up to 80 hours when fully wound.
This watch has a matt stainless steel case, dark dial with light and luminescent numerals.
It is a must-have for any patriot's collection.
In Conclusion
Vintage military watches are not only some of the most reliable watches ever made but they often have an amazing story:
So much so, they have become incredibly collectible.
The list above is meant to serve as just an introduction to the variety of WW2, international military, and overall vintage watches available.
Get your hands on any one of these and you will truly have a masterpiece to proudly display.
Share: