Credit: Metropolis / Parufamet
My wife loves horror. I love movie posters. You'd think vintage horror movie posters would be our jam:
It's not.
She hates the humungous size of one-sheets (27×41-inches) and in all honesty, we don't have space in our small three-bedroom house to do them justice:
FACT: Only two of my posters have ever been up on a wall.
The reason I mention this house is because of the ever-increasing value of vintage horror movie posters.
You see, this house is valued at about $135,000 – depending on which real estate agent you ask:
And what follows is a list of vintage horror movie posters that I would have to remortgage to own!
Those wondering the purpose of this post…
To prove posters are a good investment and to explain to my wife that a mint vintage 1987 The Lost Boys poster, costing $550 (to replace the one I ruined) is a good idea.
5. Mad Doctor (Mickey Mouse), 1933 – $138,000
Is it horror?
In terms of subject matter, it is pretty interesting.
If it wasn't Mickey Mouse it would be pretty dark. So I made a judgment call and added it to the list:
(Mostly because it's a fantastic poster).
It promotes the 1933 Mickey Mouse movie called Mad Doctor. A movie I had never heard of until stumbling across this poster:
A poster worth as much as my house!
FACT: A one-sheet version of this poster sold for $138,000 at a Heritage Auction back in 2006.
CHECK OUT: Vintage Movie Posters, A Beginners Guide To Collecting.
The Invisible Man, 1933 – $223,000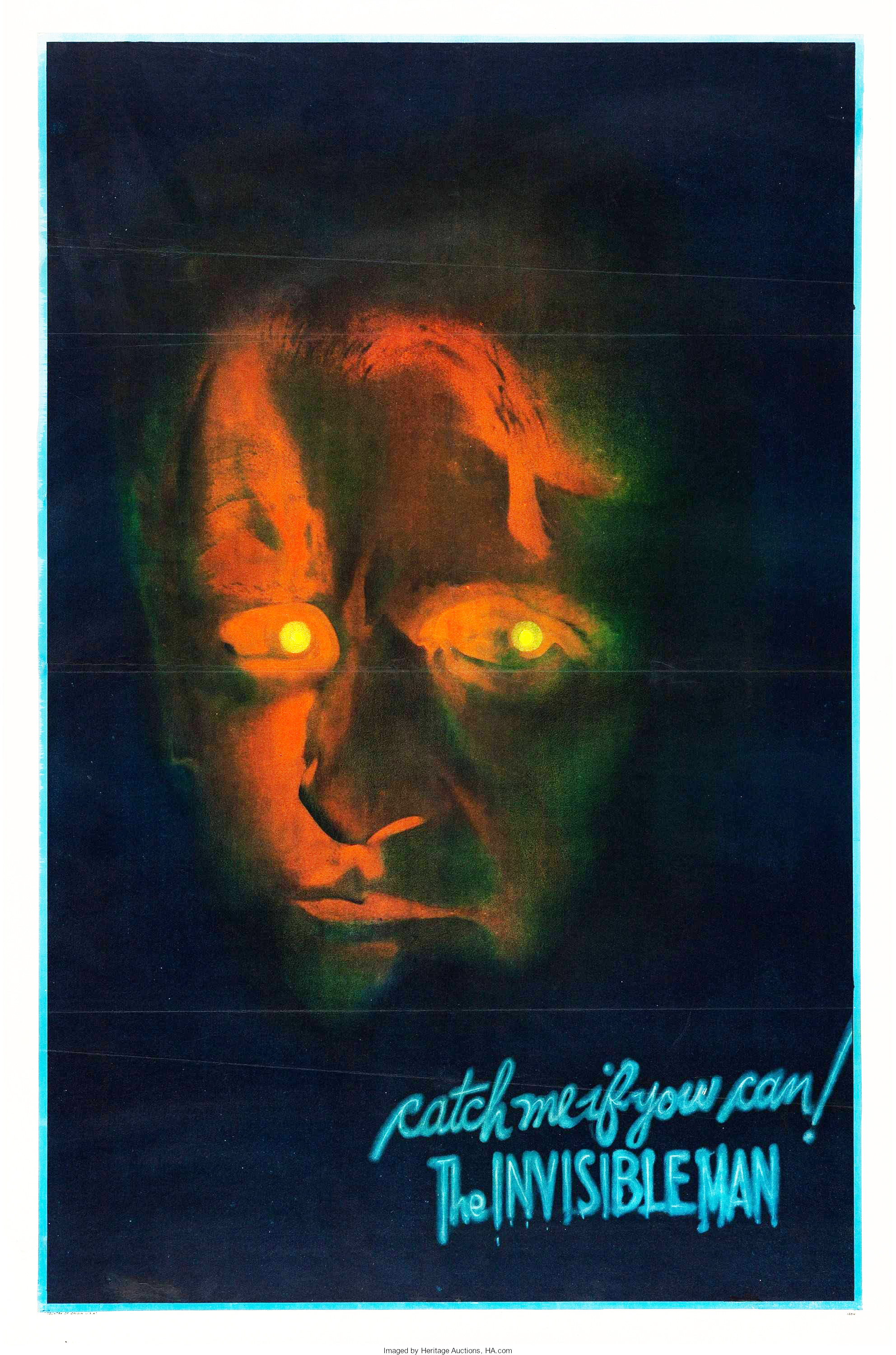 What a poster for 1933!
It might be a cheesy-horror movie from a by-gone era but this is vintage horror movie poster gold:
A fantastic tagline. A mix of Hollywood retro and custom fonts. And darkness is broken up with glowing eyes and a ghostly face.
It's ahead of its time when compared to other posters from the same time period:
So it is no surprise that someone in Dallas spent what is double my home's value on it…
FACT: A one-sheet teaser poster for this movie sold for $274,850 at a Heritage Auction back in 2017.
Frankenstein, 1931 – $358,500
Early monster movies have huge fan followings:
And because vintage merchandise for such movies is in rare supply, when something becomes available it's usually for big money.
So go check your attic now:
(You never know).
This three sheet poster for this 1931 hit movie beat the auction estimate of $100,000 to $200,000 by quite the margin…
FACT: A one-sheet teaser poster for this movie sold for $358,500 at a Heritage Auction back in 2015.
CHECK OUT: Horror Movie Merch For Fans On A $50 Budget.
London After Midnight, 1927 – $478,000
The first I had ever heard of London After Midnight was while watching the British drama Whitechapel.
There's an episode where an escaped psychiatric patient is on the prowl.
Their reason for madness?
They watched an original print of London After Midnight, starring Lon Chaney.
(A great episode from a top show).
This super-rare silent movie poster from 1927 set an auction record when going under the hammer.
FACT: The last known one-sheet poster for this movie sold for $478,000 at a Heritage Auction back in 2014.
Metropolis, 1927 – $690,000
The only word for this poster is iconic.
Metropolis wowed audiences back in 1927 and has left a legacy.
Directed by Fritz Lang, Metropolis remains one of the most expensive silent movies ever made. With its special effects and futuristic dystopian plot, it remains a hallmark of early moviemaking.
It attained its $690,000 value in a private sale back in 2005 and again changed hands in 2012 during a bankruptcy sale.
In 2012 it was bundled with King Kong and Invisible Man posters, reaching a combined $1.2-million.
Only four copies of the Metropolis poster remain. One of which is in New York's Museum of Modern Art.
FACT: This poster is expected to reach a value above $2,000,000 in the future.
Share: