5 Most Expensive Vintage Motorbikes Made In America
Credit: SplitShire / Pixabay.com
Over the last quarter-century, vintage motorbikes have been climbing in value. And for those who love motorbikes in the U.S., owning a vintage, American-made motorbike is often at the top of their wish list.
So as prices climb, these are the 5 most expensive vintage motorbikes made in the United States (and amazingly, a Harley-Davidson isn't #1).
5. 1942 Crocker V-Twin Big Tank – $385,000
The California-based Crocker only produced 72 V-twin motorbikes and the Big Tank is one of them.
The manufacturing process was halted after the Second World War, which increased the value of its motorbikes – making them rare and expensive.
The bike features aluminum fuel tanks, along with a 3-speed transmission. With countless other features, the 1942 Big Tank was the most advanced motorbike at the time of its production.
It was sold for $385,000 at the EJ Cole Collection sale in 2015 making it the most expensive Crocker bike ever sold.
CHECK OUT: 5 American Made Classic Cars That Are Worth Millions Today.
4. 1911 Flying Merkel Board Track Racer – $423,000
The 1911 Flying Merkel Board Track Racer only raced for one year before World War I:
Its distinctive fuel tank shape and orange paint gave it a unique look. The design was built to conquer the then, newly established dirt track.
This bike was owned by the Suttle family and had been in storage for over 70 years after the Second World War. It was auctioned at a Mecum auction in 2015, where it was sold for $423,000.
CHECK OUT: 5 Most Valuable Hot Wheels Collectibles That Are Worth More Than Cars.
3. 1958 Ariel Cyclone 650 – $450,000
The 1958 Ariel Cyclone 650 is a 650cc high compression vintage motorbike – that was manufactured in England…
So why is it on this list?
Well, only 174 bikes were manufactured over two years of production. One of which was owned by American musician Buddy Holly.
This icon of music made the bike famous – or infamous depending on your perspective, as Buddy Holly died in a plane crash back in 1959.
This bike, at a Guernsey Auction in 2014 sold for $450,000.
CHECK OUT: The 5 Rarest Pennies From U.S. History.
2. 1907 Harley-Davidson Strap Tank – $650,000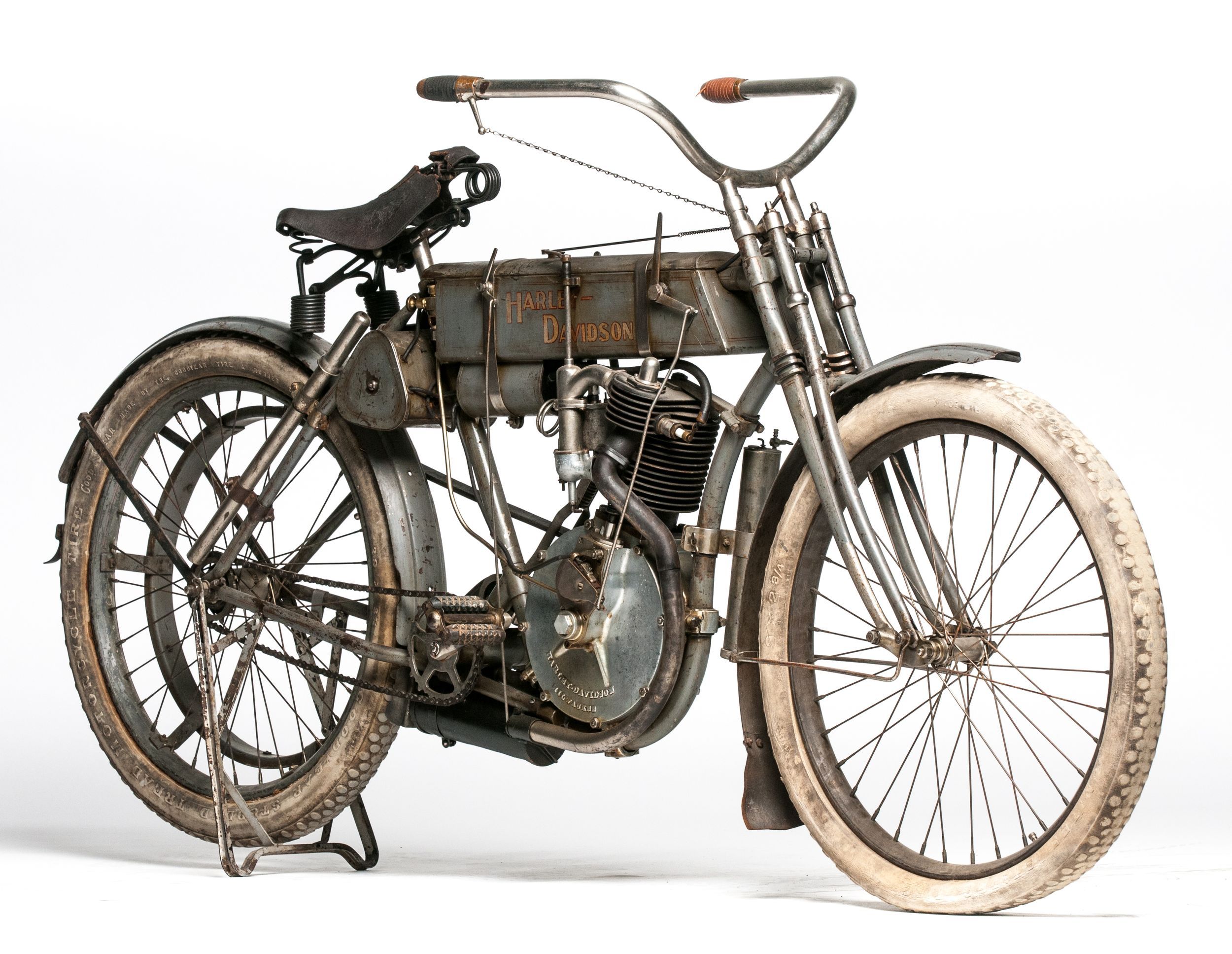 Every bike lover knows about Harley-Davidson but the 1907 Harley-Davidson Strap Tank is a rare gem, as only one of them still exists.
The last surviving piece of the 1907 Harley-Davidson Strap Tank is currently living a retired life at a museum in Oxnard, California. Completely un-restored the bike is still in its original position.
The estimated price of the bike was $800,000 to $1,000,000, but surprisingly it was sold at a much lower price of $650,000.
The 1907 Harley-Davidson Strap Tank holds the title of being the most expensive Harley-Davidson bike ever.
1. 1915 Cyclone Board Track Racer – $852,500
The 1915 Cyclone Board Track Racer is one of the rarest motorbikes ever manufactured in the United States.
There are currently only 12 of these bikes in existence, from the 300 manufactured during a three-year production run.
One of the 1915 Cyclone Board Track racers owned by actor Steve McQueen was sold at an auction for $852,500 back in 2015.