8 Most Expensive Refrigerators on the Market Today
If you think $1,000 on a refrigerator is a lot of money, look away now! The refrigerators on this list start at $7,000 and most could only fit in the biggest of kitchens. If you are a wannabe chef or host lots of luxurious dinner parties, these fridges might work for you. Or, if you're just curious to know what technology is out there, these are most expensive refrigerators that money can buy right now.
CHECK OUT: 10 Most Expensive Speakers In The World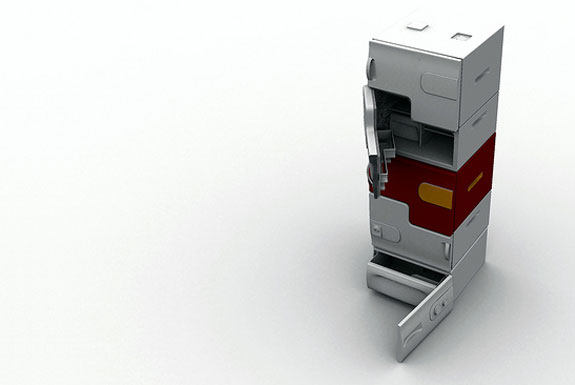 This top-of-the-line refrigerator offers enough space to divide food categories into various compartments. This technology was designed by a student in Austria and was later presented to the Electrolux Design Lab in 2008. It was first used in college dorms and school hostels.
The main objective is to prevent the hassle created by a large number of people using the same refrigerator. It comes along with a large number of shelves and boxes with the temperature levels monitored on the exterior. It also uses less electricity than most fridges, which may be of interest to certain buyers.
7. Liebherr ECBN 6256 Premium Plus Refrigerator, $8,953
This Liebherr refrigerator is made from stainless steel and includes a NeoFrost freezer technology that circulates all the cold air around the food stored, stopping any bacteria from contaminating the food. You'll never have to worry about frost ruining your food as this fridge was specifically made to keep frost out and preserve food for longer.
Additionally, the BioFresh vegetable cooler ensures the vegetables are kept cool and dry which is achieved by removing any extra moisture present in the refrigerator.
6. Northland Master Series GS72RF1, $12,000
This fridge offers efficient heating and cooling mechanisms. It also uses less electricity and is made up of entirely stainless steel (both on the inside and outside). Northland mentions this as a positive because this also makes it easier to clean and makes it ready to withstand almost anything. In fact, most of these fridges are not used for commercial use, but for restaurants and industrial needs.
The front glass is toughened, and it spans 60 inches of space, so you can be certain your fridge can fit a whole lot of produce. It is suitable for large families with even larger appetites.
RELATED: 10 Most Expensive Paintings Ever Sold
In a sleek stainless steel design with gold accents, the ZLINE 60 inch fridge is a massive, luxurious piece of equipment. It comes with an internal water and ice dispenser, so it leaves nothing to be desired in terms of function. The spacious interior is an understatement as most standard kitchens could not fit this gem in their home.
Both the fridge and freezers have temperature settings that are easy to adjust and it has several advanced features like rapidchill mode and a special setting for fruit and vegetable freshness. If you have the space and desire for a huge fridge with lots of capabilities, it is worth the $12,779 price tag, which is actually currently marked down on The Home Depot.
This model is a newer, sleeker version of the fridge we've listed as #6 on this list of the most expensive refrigerators. It offers a larger storage capacity and comes with independent storage perfect for chilled wine, fruits or vegetables. This model also comes with a window feature so that you can see everything in your fridge from the outside. Many kitchens love this look because you can display your fresh foods like a design piece in the center of the kitchen.
The only downgrade on this model is that the stainless steel door is replaced by an aluminium one. It does provide the same degree of insulation and energy efficiency, so you can tell the Northland brand values its fridge power.
3. Liebherr 585L Integrated French Door Fridge, $17,000
The third most expensive refrigerator on the market has a super-premium look and offers a 58-liter storage capacity. Features include BioFresh technology, BioFresh cooling, built-in LEDs, adjustable glass shelves, and a soft open-close door mechanism. Not only that, but like many fridges on this list, it is made with durable stainless steel. There is no feature left unturned with this refrigerator and same goes for its freezing technology.
2. Sub Zero Pro 48 With Glass Door, $20,390
This refrigerator comes with a huge internal space and takes up 48 inches in the kitchen. One of its features is dual refrigeration, which comprises three evaporators and two condensers making it perfect for storing both fresh and frozen foods. According to the brand, their Sub-Zero refrigerators come with an air purification system that is based on the same one NASA uses.
This system prevents the transfer of odor from one compartment to another. The magnetic door seal ensures the door is never accidentally left open. Plus, temperature displays on the exterior for convenience.
CHECK OUT: 10 Best Drones for Beginners
1. Meneghini La Cambusa, $41,000
Finally, we have the most expensive refrigerator on this list and the market, which is the Meneghini La Cambusa. A combination of kitchen appliances is incorporated into one single masterpiece, taking a kitchen into the future realm of convenience.
It includes a three-way door cabinet, each 6 feet long and 9 feet wide. It has a 75-gallon storage capacity and incorporates a coffee maker, ice dispenser, and microwave. It looks sleek from the outside and inside, sealing up its capabilities with decorative cabinets. For anyone with an interest in design, this fridge system is high-quality and spacious, leaving little to be desired.