10 Most Expensive Chess Sets: From $27k To $9.8-Million
Credit: Jarmoluk / pixnio.com
Chess sets come in all shapes and sizes. Some are themed on pop culture classics, including Star Wars, Marvel, and more. And while finding a complete Marvel set might run you $400-500, some chess sets are made truly high-end, by famed designers as showpieces.
These are the most expensive chess sets worth five figures and more:
CHECK OUT: Vintage Chess Sets and How Much They Sold for in 2023
10. 250th Anniversary Baccarat Harcourt Chess Set, $27,300
The French crystal maker Baccarat designed this beautiful crystal chess set in 2014 on its 250th anniversary in collaboration with Japanese designer Oki Sato. The pieces are made from midnight-blue and clear crystal, and each piece took over 100 hours of crystal cutting to complete.
9. The Cybis Chessmen, $49,900
Designed by Harry Burger Jr., this beautiful porcelain chess set is worth $49,900. Ten such sets were made in 1970. The elaborately carved pieces are based on the Nine Heroes Tapestries hailing from the 14th century. The pieces depict Jewish, Hebrew, and Pagan figures.
CHECK OUT: Most Expensive TVs In The World – From $111,000 To $2.3 Million
8. Charlemagne, King of Carolingians vs. the Moors of Spain Giant Chess Set, $146,490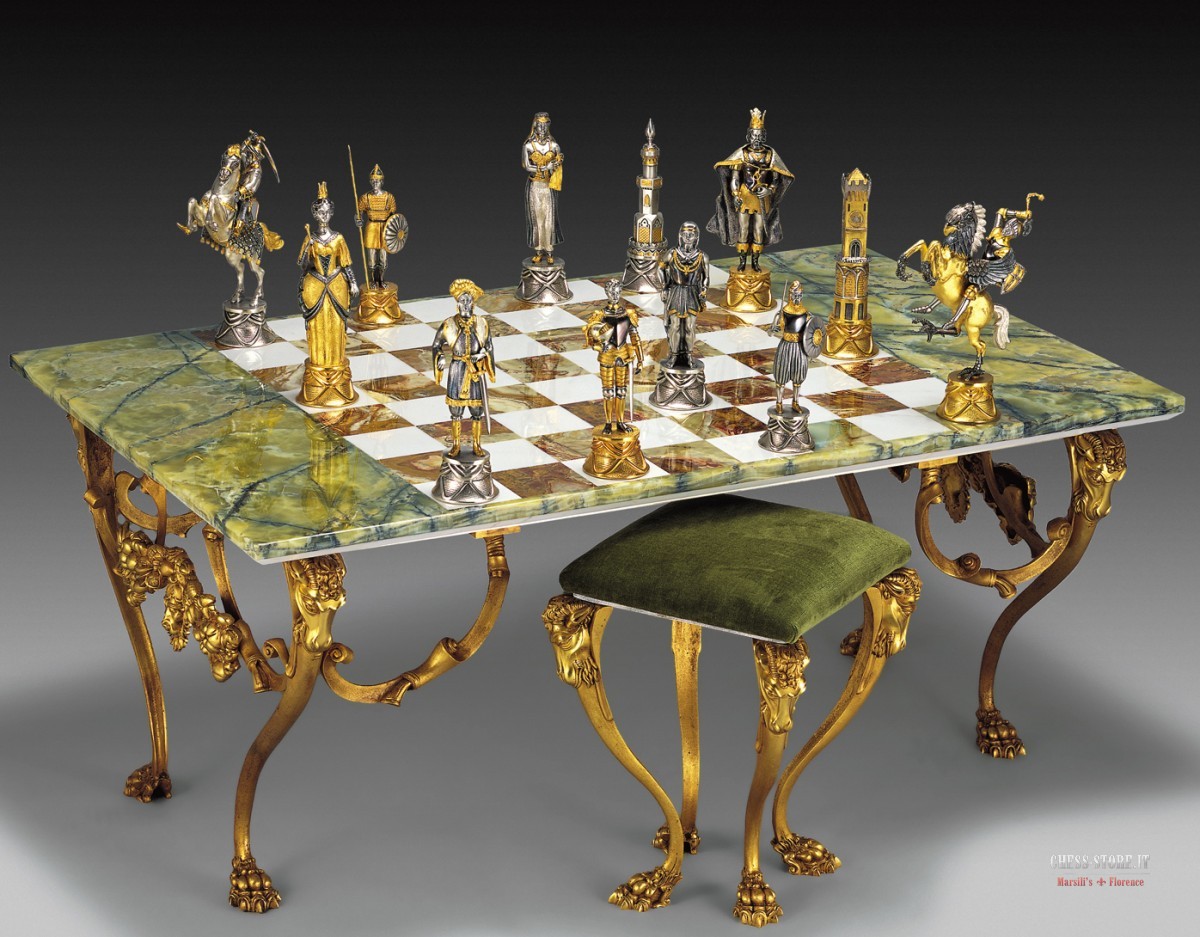 Valued at $146,490, this breathtaking chess set was designed by Piero Benzoni and sold by Pianki. This set features the classic Arthurian-inspired court of royals, knights, and turrets, a marvelous depiction of medieval warfare. The set has been inspired by the historical accounts of Charlemagne and is crafted on gold-plated legs.
7. The Queen's Silver Jubilee Limited Edition Chess Set, $195,000
Designed in 1977 by Geoffrey Parker, this is another one of the most expensive chess sets globally, valued at $195,000. Made from sterling silver and gold leaf pieces, this set was gifted to celebrate 25 years of the reign of Queen Elizabeth. The chessboard is made from leather buffalo calfskin trim.
CHECK OUT: The 10 Most Expensive Speakers In The World
6. J. Grahl Chess Set, $450,000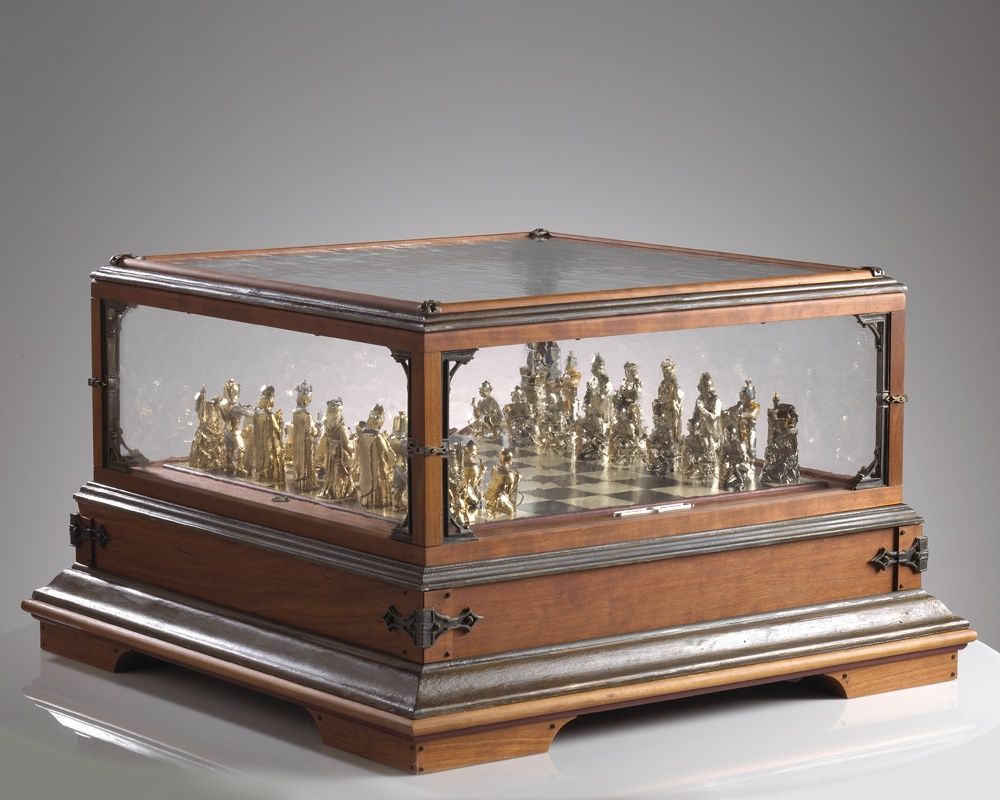 Jim Grahl originally designed this chess set in 1972 on a commission basis. Valued at $450,000. The total weight of all the pieces in this set is believed to be almost a pound. Each of the pieces is crafted from 14-karat gold and solid silver. The chessboard is manufactured from ebony wood which is further embellished with sterling silver.
5. Royal Diamond Chess Set, $500,000
Valued at an estimated $500,000, this extraordinary luxurious chess set is designed by French artist and jewelry maker Bernard Maquin for Charles Hollander. This lavish chess set took over 4500 hours to design, and the chessboard and pieces are handmade.
The chess pieces are styled classically and made of 14 karats of white gold and covered with 9900 white and black diamonds. The diamonds weigh a total of 186.9 carats.
CHECK OUT: Most Valuable Famous Signatures – From Hendrix To Shakespeare
4. The Art of War Set, $700,000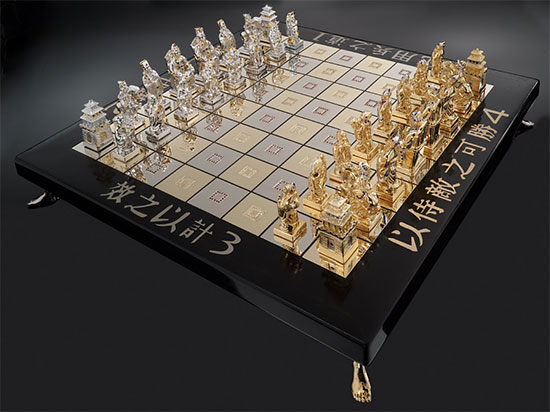 Made in 2008 by the designer Victor F. Scharstein, this beautiful rhodium and gold chess set is priced at $700,000.
Each gold and rhodium piece is made by hand and inlaid with precious diamonds, emeralds, rubies, and sapphires. The board also is spectacular to look at, built from gold and ebony wood, and decorated with more precious jewels.
3. Game of Kings Chess Set, $3 million
Estimated to be worth a total of $3 million, this is the third most valuable chess set in the world. The chess set took two years to craft and weighs more than a ton, containing over 110 pounds of silver. The chess set has been inspired by ancient Mayan and Aztec civilizations, and the set has been exhibited many times at museums and galleries.
The King's pieces are made from red and black obsidian and finished with 925 silver, turquoise, and 22k gold vermeil. The dimensions of the king pieces are 450mm in height, 150mm in depth, and 150mm in width. The weight of the king pieces is 5 kgs.
CHECK OUT: The 10 Most Expensive Phones Ever Made
2. Pearl Royale Chess Set, $4 million
Priced at a steep $4 million, the Pearl Royale Chess Set is considered the Bugatti of chess sets in the world. It once held the title of being the most expensive chess set and was designed and created by Australian jewelry manufacturer Colin Burn, Only three of these sets exist.
Made in 2008 from 18 karats of white gold. The pieces are further inlaid with a spectacular collection of precious stones like sapphires, diamonds, and pearls taken right from the South Sea.
CHECK OUT: 5 Most Expensive First Edition Books
1. Jewel Royale Chess Set, $9.8-million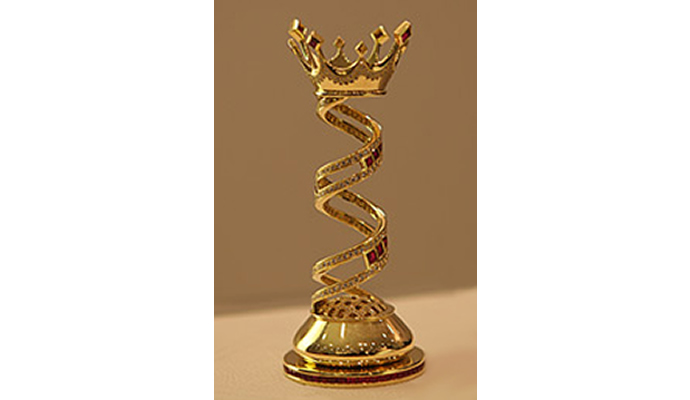 The most expensive chess set in the world is the Jewel Royale Chess Set. Designed by Boodles. The King's piece itself is valued at over $140,000.
The chess set has inlays of 16-karat gold, dozens of rubies, and spirals of diamonds. The original Jewel Royale Chess Set was commissioned for $1.2 million and is now worth $9.8 million.