5 Best Mini Chainsaws: From Ryobi To Remington
Credit: Pixabay.com
Mini chainsaws are ideal for light lumberjacking tasks such as pruning branches and cutting small logs. Their rugged design and powerful motors cram a lot of cutting power into a small package while also providing a level of durability that users typically do not find in other power saws.
CHECK OUT: The Best Vacuum For Car Detailing – From $35 To $350
Luckily, there is a wide selection available, and the best mini chainsaws available are below:
Ryobi One+ 8″ Pruning Chainsaw, $139+
Best For: This battery-powered lightweight mini chainsaw from Ryobi is perfect for pruning and small timber jobs.
Good portable chainsaws might be difficult to come by or can be prohibitively expensive. That is not to say that you must stalk your trees with a gas-powered horror-movie weapon:
The Ryobi 8″ Pruning Chainsaw resembles a standard two-handed chainsaw, but it is significantly lighter, weighing only 6 pounds.
The Ryobi is a tool that has been created with safety in mind. When working with such lightweight instruments, mishaps can occur without your knowledge. This Ryobi features a guard at the bar and at the tip of the chain to prevent bouncebacks if you strike something hard.
Sun Joe Pole Chain Saw, $69+
Best For: This versatile combo pole with chainsaw attachment extends to 8.6 feet and can cut branches 7.5 inches thick.
Anyone with an overhead landscape that requires trimming should select this Sun Joe mini chainsaw, as it comes equipped with a telescopic pole attachment.
CHECK OUT: 5 Best Handheld Vacuums For Pet Hair
This multifunctional saw allows you to lop off branches up to 15 feet in the air and then use it as a standard chainsaw to cut up your logs.
Together, the pole and saw weighs just 8.4 pounds, which reduces arm strain during cutting and makes it not just easier to manage but also safer than larger ones. Its 8-inch cutting bar is capable of slicing through logs up to 7.5 inches in diameter.
WORX WG320 JawSaw, $119+
Best For: Light, safe, and perfect for overhead use. This mini chainsaw can cut 4-inch branches with ease.
The Worx WG320 JawSaw is ideal for users uncomfortable handling a traditional chainsaw but who require the cutting power required to rip through branches and small logs up to 4 inches in diameter.
ALSO READ: The Best Treadmills for Home Use
Its long neck enables you to maintain a safe distance while controlling the blade, and the saw's mouth surrounds the blade as it works.
The blade completely retracts into the housing when not in use, making it an extremely safe option. It is perfect for use while lopping off tree branches from above due to its lightweight.
4-Inch Cordless Mini Chainsaw, $33+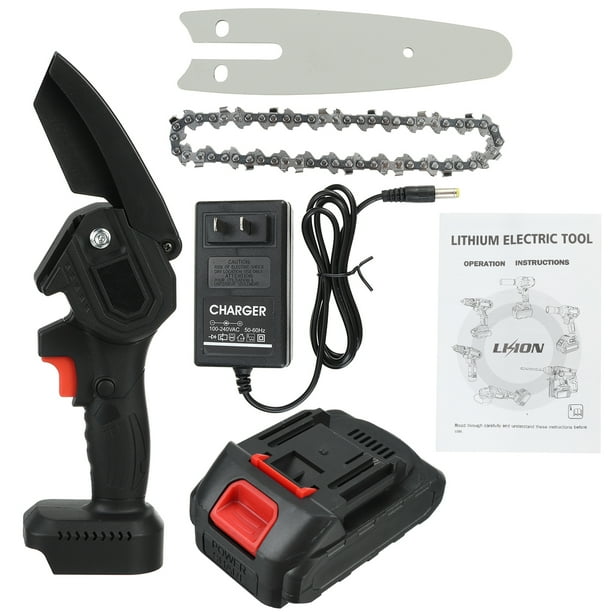 Best For: Small handheld electric saw for wood cutting, tree pruning, and gardening, Ideal for household cutting costs.
This 4-inch cordless mini chainsaw is a highly-rated tool that has captured the attention of chainsaw users everywhere. This tool may appear like a cute toy, but it works as hard as anything.
ALSO READ: 5 Best Movie Remakes In The History Of Cinema
This professional electric chainsaw features a high-performance engine, heat dissipation design, and cordless bonding to provide you with increased efficiency and load capacity.
The mini chainsaw demonstrates a highly dynamic system of technology that ensures a smooth flow of operation. It can cut branches up to 15 cm in length in less than 10 seconds.
It uses a high-grade pure copper motor to optimize cutting speed and efficiency. This tool is only 33cm in length and weighs 0.7kg – no more tired arms.
Remington 14-Inch Chainsaw, $59+
Best For: This Remington chainsaw is ready for anything, with a quiet environment-friendly design, it is perfect for anything modern life throws at it.
For light-duty tree cutting, you'll need a small chainsaw that's tough, lightweight, and durable enough to be used for an extended period. The Remington RM1425 is an electric chainsaw worth considering.
CHECK OUT: 5 American-Made Classic Cars That Are Worth Millions Today
Its primary working elements, the chainsaw, and bar, are 14 inches in length and feature a low kickback if the chainsaw becomes stuck in a branch. To prevent the chain from overheating, it features a push button that you can use to squirt the lubricating oil regularly.
This small chainsaw has all of the advantages of an electric chainsaw, including its lightweight and compact size. With an electric motor, weight is significantly reduced, allowing you to trim for an extended period without feeling fatigued.
If you're looking for a small chainsaw with enough power to tackle small tasks around your yard, this is the chainsaw for you. It is compact, lightweight, and extremely affordable.