5 American Made Classic Cars That Are Worth Millions Today
America has manufactured some of the most iconic and classic cars in the world. From race tracks to city living, a classic American-made car offers performance, luxury, style, and glamour:
And some, which are iconic in history, are worth millions of dollars. The following is a list of the 5 most expensive classic American-made cars ever.
RELATED: 9 Best 60s Movies and Where To Stream Them, Including Bullitt
5. 1966 Shelby Cobra 427 "Super Snake", $5.1 million
The 1966 Shelby Cobra 427 is literally the rarest American vintage muscle car. There were only two Super Snakes ever manufactured and only one of them still survives.
Carroll Shelby built these cars for himself and due to their rarity, when the one surviving car was sold at the Barrett-Jackson auction in Arizona, it went for $5.115 million.
The car features 1,000 Horsepower with its twin-supercharged 427 V8.
CHECK OUT: The Most Valuable Hot Wheels Collectibles
4. 1964 Ford GT40 Prototype, $7 million
The 1964 Ford GT40 Prototype is a rare gem that has been driven by legends like Bruce McLaren and Phill Hill in races such as Le Mans, Sebring, and Nassau.
The basic design of this car consists of a lightweight steel monocoque chassis with a double A-arm suspension.
Ford used to display it at the Detroit Auto Show until its final restoration in 2010. And in 2014, the car was sold at the Houston Mecum for $7 million.
CHECK OUT: The Rarest Pennies From U.S. History
3. 1931 Duesenberg Model J Long-Wheelbase Coupe, $10.34 million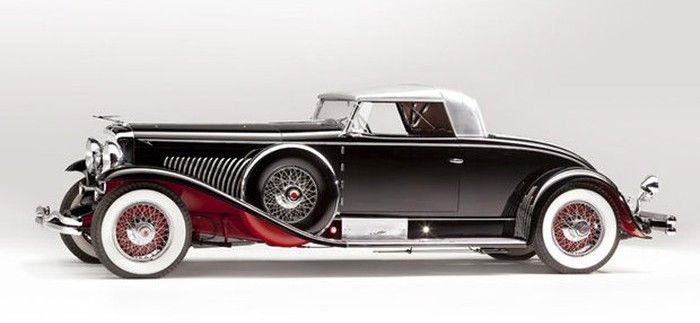 Duesenberg is the most prestigious name when it comes to vintage American cars. And the Model J long-wheeled coupe is one of the finest cars ever manufactured by the company and was very advanced for its time:
It was the first car to have a straight-eight engine and overhead cams. The car produced 256 horsepower, which was a huge achievement back in 1931. The first consumers of these cars were New Yorkers, however, within a short time, they became a favorite of Hollywood stars and artists.
The most expensive Model J ever was sold at an auction for $10.34 million.
CHECK OUT: 8 Rare U.S. Stamps That Are Worth Serious Money
2. 1962 Shelby Cobra CSX2000, $13.7 million
The 1962 Shelby Cobra CSX2000 holds a significant place among classic American-made cars. The bold design and high-powered performance have made this car a fantasy of every muscle and vintage car fanatic.
It is the first car assembled by Carroll Shelby and his crew. Chassis number CSX2000 is the most expensive Shelby Cobra car in the world. It was sold at an auction in California for $13.7 million.
CHECK OUT: The Most Expensive Vintage Motorbikes Made In America
1. 1935 Duesenberg SSJ, $22 million
Any list of American-made classic cars has to include the most expensive – the 1935 Duesenberg SSJ. There are only two models of this car as the production was halted due to the Great Depression (the Duesenberg SSJ was made in Indianapolis).
One of these cars, which was driven by actor Gary Cooper was sold at a 2018 auction in Pebble Beach for $22 million. The car features a 400-horsepower supercharged straight-eight engine that is placed in an abbreviated Duesenberg chassis. It is the most expensive pre-war American car sold ever at an auction.