10 Most Expensive Suits in the World
We often associate expensive suits with celebrities, extremely formal events, or luxury fashion brands. For most, anything above $1,000 is a big-ticket item. As a result, spending five figures on a suit would be mind-blowing. However, it seems many people are willing to pay the big bucks for suits based on a few key factors. Some of which include craftsmanship, luxurious materials, and small quantity produced. As a result, these rare finds are the most expensive suits in the world and the price tag might make your jaw drop.
CHECK OUT: 15 Most Expensive Vintage Photographs That Are Worth Thousands
10. Bespoke From Brooks Brothers, $14,500
Once upon a time, a bespoke Brooks Brothers suit cost $14,500. This one-off customized suit was made from a fabric blend of Mongolian cashmere and super 200s merino wool, which is the finest wool in the world.
Before filing for bankruptcy, every suit from Brooks Brothers was unique, as no suit is woven until an order is placed. The weaving was performed on 100-year-old looms located in England – taking around six months per suit to make. Today the brand isn't what it once was, especially since Covid led to remote events and wearing expensive suits daily or for a special occasion doesn't happen as much. Watch the video above to find out more.
9. Bespoke From William Fioravanti, $20,000
If you want to shell out $20,000 for a new, custom-made suit, then you'll have to have William Fioravanti hand stitch it for you. In the prime days of Manhattan, they had a Fiorvanti's shop on West 57th street where you could select a suit from their many custom fabrics. This suitmaker won the 'Golden Scissors' award from the Academy of Master Tailors in Italy. However, this shop closed down due to financial reasons, which can be attributed to the more casual work and event nature that Covid-19 started. These suits are known as some of the most expensive suits out there to this day.
ALSO READ: 10 Rare Vintage Pyrex That Is Now Valuable And Hard To Find
8. Brioni Vanquish II, $43,000
The Brioni Vanquish II sells for $43,000, hailing from Brioni, a luxury Italian fashion house founded in 1945. The fashion house is known for its top quality and exclusive suits made from special British luxury fabrics known as Vanquish 11.
Brioni suits are famous for their broad-shouldered, wide-chested jacket design and for being almost entirely handmade. Having over 30 proprietary detailing pieces, the typical suit from Brioni comes with double stitched buttonholes and cashmere-lined collars.
7. Desmond Merrion Supreme Bespoke, $47,500
Retailing at $47,500, Desmond Merrion is a legendary tailor sitting on London's Savile Row. The high price of these suits is because Merrion himself places every stitch in the suits by hand. No machine is used on the garment at any stage. As a result, one suit can take several months to be made. This meticulous attention to detail and exclusive feel is what makes these suits so expensive.
6. William Westmancott Ultimate Bespoke, $58,000
One of the most expensive suits in the world is from William Westmancott Ultimate Bespoke. William Westmancott is a famous Savile Row bespoke tailor and one of the most expensive tailors you can find. In his career as a tailor, he has designed clothes for the British Royal Family, Sultan of Oman, and many celebrities. The notoriety associated with this suit label is what largely contributes to its five figure cost.
Instead of the usual two-piece suits, these suites consist of three to four pieces. Each suite takes over 200 hours to be finished and is made from ultra-lightweight fabric. The suites come with a lifetime guarantee of free adjustments and repair.
5. Kiton K-50, $60,000
Priced at a whopping $60,000, each suit from Kiton's is made by world-famous tailor Enzo D'Orsi. If any customer is unable to make it to their store in London, Enzo will himself come to you, which for the price, seems like a reasonable service.
The name K-50 means that it takes Enzo 50 hours to complete each suit. Enzo only makes 50 suits a year. Apart from the high-priced K-50, Kiton also sells less expensive suits in the price range of $5,000 to $8,000.
4. Cavalier Rockefeller Vanquish II, $70,000
You don't want to lose any buttons from this suit. This is because the buttons on the Cavalier Rockefeller Vanquish II are made from 4 karat diamonds. Costing $70,000, the Cavalier Rockefeller Vanquish II comes with a lush silk lining and truly spares no cost or luxurious feel. There are only five such suits ever to have been made, which makes them extremely rare to find.
3. Dormeuil Vanquish II, $85,000
Costing $85,000, this suit is made by a UK-based supplier of luxurious fabrics, Dormeuil. The Vanquish II fabric is made from a blend of three rare wool types: pashmina, vicuna, and qiviut. The fabric makes this one of the most expensive suits as it costs over $4,000 per 40-inches, which is exactly why those who can afford it want to own a suit of this level or luxury.
ALSO READ: 5 Reasons Why Citizen Watches Are Worth Buying
2. Alexander Amosu Vanquish II Bespoke, $102,000
The second most expensive suit in the world is from Alexander Amosu. The Alexander Amosu Vanquish II Bespoke suits are made from the world's most expensive wool, qiviut, and vicuna. These materials make the suit unique to others on the market and allow customers to justify the hefty price.
This suit was only ever made for an anonymous buyer who had it delivered in their own armored truck. After all, with buttons made from 9-carat gold, with diamond inlaid, the suit is worth a small fortune at $102,000. Wondering who ordered this suit and for what event? We are too, but supposedly, the world will never know.
1. Stuart Hughes Diamond Edition, $892,000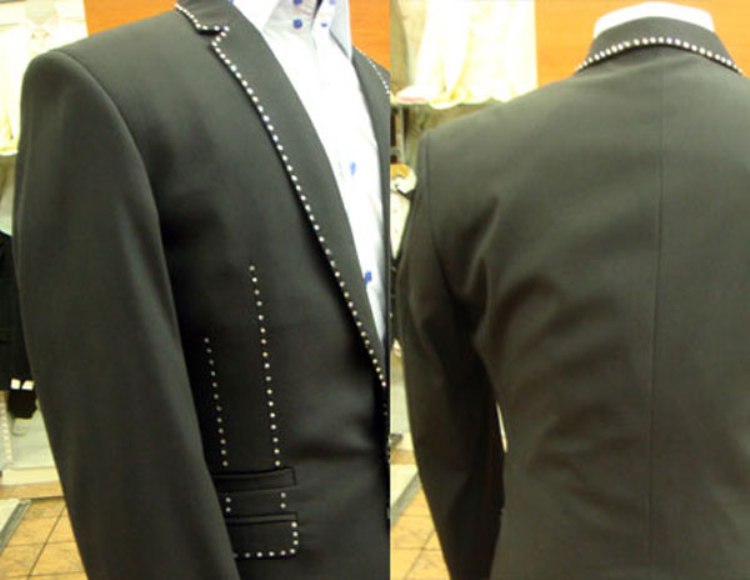 Priced at $892,000, this suit is worth more than some people's homes. From famous designer Stuart Hughes and Richard jewels, this suit is made of cashmere, silk, and wool. Only three such suits exist, and each is studded with hundreds of diamonds. This suit is easily the most decked out and sparkly option on this list, which clearly establishes it as the most expensive suit ever made. It is a level of style and luxury that is unattainable for many, solidifying its rarity among the suits of the world.