12 Most Expensive LEGO Sets: From Tauntauns to Turtles
LEGO is possibly the most iconic toy today. With millions of people worldwide loving to build, display, and collect.
But not all sets are created equal – with some limited editions being worth small fortunes. These are the most expensive LEGO sets right now.
CHECK OUT: Future Collectibles: Mini LEGO 1970 Fender Stratocaster
12. Grand Carousel, $2,506
Carnivals are amazing events that people go to often, so why not have your own little carousel for your shelves? Carnival fans everywhere are in desperate need of this amazing Lego set. Released in 2009 and retiring in 2011, this shelf only had a shelf life of 2 years.
With 3,261 pieces, this set is sitting at a value of $2,500 based on the average sales over the last six months according to Brick Ranker.
11. Death Star II, $2,650
There are several franchises that are incorporated in other companies, and Star Wars is one of many. With such a large fanbase, it's hard not to include the loveable characters and lore, even the evil ones, like the Death Star. Released in 2007 and retired in 2009, this set only had a shelf life of one year and 7 months.
Based on Brick Ranker, this 3,461-piece set has a value of over $2,500 based on the average sale price over the last six months. As part of the Star Wars collection, this is a crucial piece to grab for collectors.
10. Market Street, $2,600
The Market Street Lego set was released in 2007 and retired in 2009 with a shelf life of one year and nine months. With 1,250 pieces, this set has only grown in value since it's retirement, make it worth over $2,500 based on Brick Ranker.
There are three minifigures that are sold with this set which create some of the value here.
9. The Legoland Train, $2,750
The first on our list is the Legoland Train set. Specifically, the Legoland train set from the LEGO Inside Tour 2014. This set comes with seven mini-figures as well to place around. It went on sale back in 2014 and is now worth around $2,750.
There are some listing that have this priced as high as $3,500, but there are very few on the market, so if you end up finding one, snag it up if you can!
READ MORE: Amazing Video Game Toys For Under $150
8. Taj Mahal, $2,865
Just like the real-life landmark, this LEGO set is beautiful, massive, and detailed. The set contains 5,923 individual pieces and if you want to buy the 2014 Taj Mahal set now, it will set you back $2,865.
Depending on the listing, you can find this set priced as high as $4,700, or as little as $2,000, giving you a wide range of choices if you're trying to add this to your collection.
7. Han Solo on Tauntaun, $3,156
You'll notice that Star Wars LEGO sets make multiple appearances on this list. The Han Solo on Tauntaun Miniland Scale set is based on the scene from the Empire Strikes Back where Han Solo is traveling on a tauntaun.
That iconic scene has been frozen in time by Lego and is now worth a whopping $3,156 boxed.
6. Ultimate Collector's Millennium Falcon, $3,500
Star Wars makes it to the list again with the Ultimate Collector's Millennium Falcon. The Millennium Falcon is Han Solo's ship for those who don't follow Star Wars lore. One of the main characters in the Star Wars franchise.
It is also the second-largest LEGO set in the world, just behind the Taj Mahal. It comes with 5,174 pieces in the box. This rare set also comes with mini-figures of iconic characters like Princess Leia, Obi-Wan Kenobi, Luke Skywalker, Chewbacca, and Han Solo. This LEGO set is priced as high as $7,000, but you can find cheaper deals for only $1,000 depending on where you're looking. The average price is around $3,500, however.
5. The LEGO System House, $3,730
With a little under 1000 pieces, this Lego set has a value of $3,730 according to Brick Ranker. It was only available exclusively as a gift for attendees of the Lego inside tour during 2019.
It's based on the actual LEGO company structure in Billund, Denmark. While it's one of the smaller sets, it's still priced at a high price due to it's rarity.
RELATED: Most Valuable Retro LEGO Sets From The 80s, 90s, and 00s
4. Piper Airplane, $4,237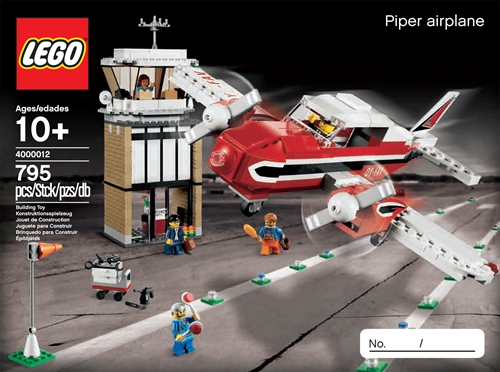 At number 4 on our most expensive LEGO set list is the 2012 edition of the Piper Airplane. The set comes with 795 pieces of the airport, the airplane, and Minifigures.
But this rare Piper Airplane doesn't come cheap. You can expect it to set you back $4,237 if you wish to own this set.
3. TMNT Antonio's Pizza-Rama, $4,276
This is a weird one. The TMNT Antonio's Pizza-Rama, based on the iconic Teenage Mutant Ninja Turtles set, is a pretty basic-looking set of a pizza slice.
But this Pizza slice is the 2012 Exclusive New York Comic-Con edition. The rarity of it and the cult following of everything TMNT makes this Lego set very expensive. It is priced at $4,276.
2. Cloud City, $5,590
Another Star Wars set, this was released in 2003 and retired in 2005 for a shelf life of only a year and 6 months.
With only 698 pieces, this set has a value of $5,500 according to Brick Ranker based on the last 6 months of sales. It has 8 minifigures, with Boba Fett being the most valuable within it.
1. H.C. Andersen's Clumsy Hans, $7,465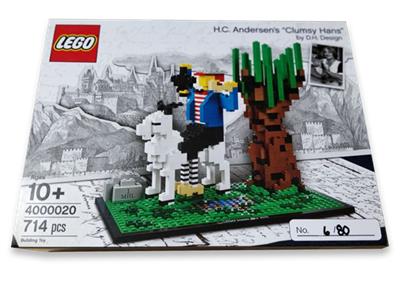 At the top of the list, we have the H.C Andersen Clumsy Hans 2015 Edition. This LEGO set was given to approximately 80 Lego ambassadors throughout the world.
Since only a few select pieces exist and most of the ambassadors decided to hold on to the sets, the H.C Andersen Clumsy Hans is the single most expensive LEGO set, making it an estimated cost of about $7,465.
CHECK OUT: Rare LEGO Minifigures That Are Worth Thousands Of Dollars