Credit: pxhere.com
BEST TV STANDS: Nowadays, most television sets are flat and light enough to be wall-mounted. However, there are situations when placing one on a television stand is the ideal option:
If this is you, what you don't want to do is put your brand-new 4K television is atop a small shaky table with barely enough space for its base. It's unattractive, and a risk.
CHECK OUT: 10 Most Expensive TVs In The World – From $111,000 To $2.3 Million
Therefore, consider the stand's size, appearance, and functionality instead of opting for the cheapest TV stand available:
Let Nerdable guide you through the process of selecting the best TV stand for your room, regardless of whether you're a hoarder of set-top boxes or a minimalist.
Important: Nerdable.com earns commissions for purchases made through links in this post.
Nathan James Liam Media Console TV Stand, $255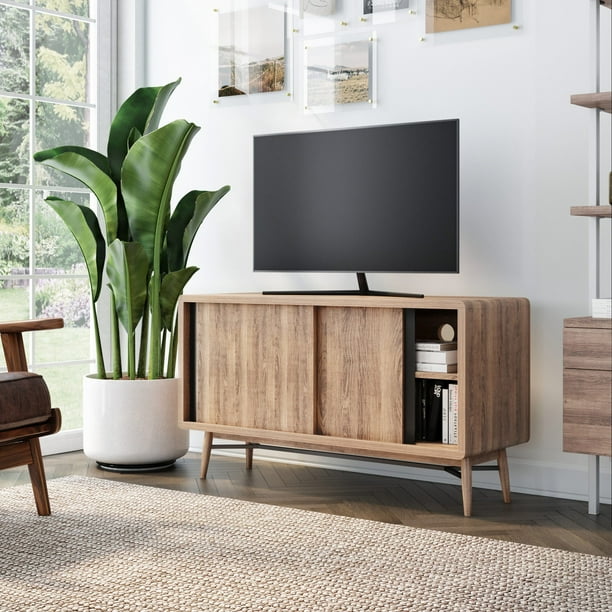 This stylish TV stand is the answer for those with little room but a need for flair. It has slanted, tapered legs reminiscent of mid-century modernism, and the rest of the item is basic and clean.
It accommodates televisions with displays up to 40 inches and boasts rounded edges and sliding doors, as well as adjustable shelf and cord management holes on the back panel.
CHECK OUT: 5 Best 4k Smart 50-inch TVs For Shoppers On A $500 Budget
Retro Media TV Stand, $277
Nowadays, most console and television tables include slender canted legs – a hallmark of mid-century modern design. We considered Vasagle's retro-inspired TV stand to be the most sturdy and visually appealing of the options available.
The walnut table, which has received outstanding reviews, is strong enough to handle a television up to 50 inches. A cable hole conceals the wires behind a two-tier shelf space for consoles, receivers, or books.
CHECK OUT: 5 Cheap Soundbars That Will Improve Your TV's Sound For $100 Or Less
Convenience Concepts Designs2Go 3-Tier TV Stand, $72
The Convenience Concepts Designs2Go 3-Tier TV Stand is an excellent choice if you're on a tight budget. It features a three-tier design that accommodates televisions up to 42 inches and is constructed of stainless steel with particleboard shelves in between. The shelves come in various finishes, and the item as a whole has a sleek modern aspect.
With a height of 31.5 inches and a width of just over 22 inches, this TV stand may easily fit into tight areas if necessary. Its two lower shelves are ideal for storing TV accessories, and assembly is a breeze, taking only four steps.
CHECK OUT: 5 Amazing 40-inch 4k Smart TVs For Shoppers On A Budget
Fitueyes Universal TV Stand, $43
This simple yet extremely functional and robust device will accommodate TVs up to 65-inches. This stand, constructed of a steel pole and tempered glass, supports 110 pounds.
Adjustable up to 5.5″ and with an 80-degree swivel (40 degrees on each side), it's ideal for any environment. A simple-to-install mount that is reasonably priced and takes up little space.
CHECK OUT: 5 Best 65-inch 4k Smart TVs For Under-$1000 Right Now
Ameriwood Home Carson TV Stand, $115
The attractive and economical Ameriwood Home Carson TV stand is ideal for modern living spaces, available in several sleek hues and intended to accommodate 50-inch wide televisions weighing up to 60 pounds.
It features three open shelves and two more shelves behind both closed doors, providing ample storage for cable boxes, gaming systems, and DVD/Blu-ray players, among other things. The stand is constructed of particleboard and is highlighted by silver metal tubes.
CHECK OUT: Best TV Under $300
Final Thoughts
While it may seem unimportant, the TV stand can set the tone for the entire living area. It protects your valuables, conceals your wiring, and supports our dear friend the television.
By devoting a few minutes to thoughtful consideration, you can make an informed choice and obtain the best TV stand for your home.
Share: