If you are a big football fan, you may have a few cards lying around in the attic. Believe it or not, football cards don't need to be very old to be valuable. For example, in this article, we focus on 90s football cards worth money.
CHECK OUT: The Latest Topps Cards Now! Including MLB, NBA, NFL, & More Top Card Collectibles.
Sadly, many 1990 football cards are worth only a few bucks. And this list outlines the big hitters only. Remember, a valuable card from the 90s has to be either rare, scarce, a limited print run, or a card featuring a significant player who made an impact on the game while active in the NFL.
Here are the top five most valuable football cards:
5. 1999 Walter Peyton Upper Deck Century Legends Gold Card
Nothing beats a card that features a player from another era. Peyton was the 1977 NFL MVP who passed away in 1999. The close-up shot of Peyton is what makes this card attractive along with a large signature. These were numbered and only go to 50 in total. A BGS 9.5 version recently sold for $1,413 and expect these cards to go up in value.
CHECK OUT: The 5 Most Wanted Baseball Cards From The 1990s.
4. 1998 Peyton Manning Bowman's Best Refractor Card
Manning is going to dominate any list of 1990 football cards worth money simply because of his career. So it should be no surprise that he occupies three spots on this particular list.
This card is an attractive one with an action shot and it is also an autographed card. A BGS 10 version sold recently for $1,625. The signature will impact the condition and it is susceptible to fading.
RELATED: 7 Best Baseball Movies and Where to Stream Them
3. 1998 Peyton Manning SP Authentic Card
Another valuable Peyton Manning football card from the 90s is this 1998 SP Authentic. This specific card had a production run of 2,000 copies, so it is not as rare as some others on this list:
However, what makes this one stand out is the iconic photo, with gold trim. In December 2019 a BGS 9.5 version sold for just over $1,500. A gem mint version also sold but for $3,894, which is still impressive.
CHECK OUT: The 5 Most Valuable Michael Jordan Basketball Cards.
2. 1997 Brett Favre Fleer Metal Universe Precious Metal Gems Green Card
Based on the many records Farve still holds in the NFL, his football cards are considered to be worth a great deal. If you have one of these, you have one of the most valuable football cards from the 90s.
This green version is rarer than the red alternative, with only 15 cards ever produced (135 red cards were produced). Just be aware that the wax finish can quickly change the card's overall condition – and value.
An ungraded green card recently sold for $7,301 at auction.
CHECK OUT: 5 Basketball Card Values That Will Leave You Speechless.
1. 1998 Peyton Manning Playoff Contenders Rookie Ticket Auto Rookie Card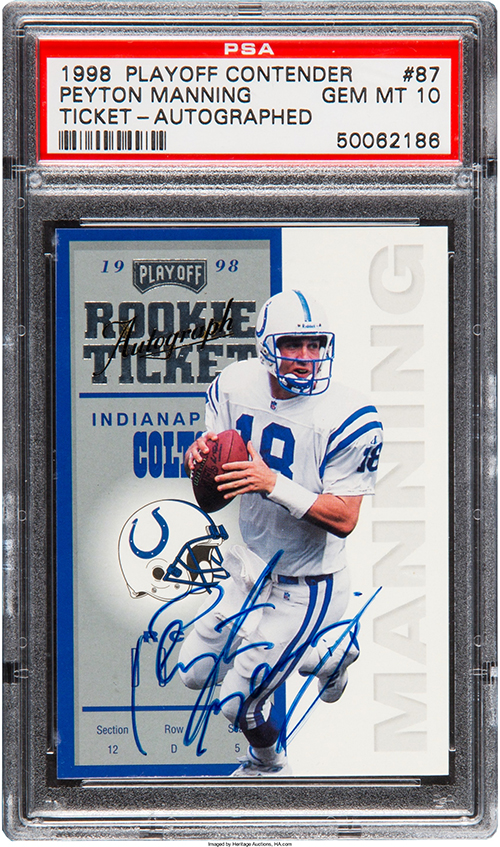 What makes this such an incredible collector card is that there were only 200 of these produced. This is also Manning's only signed rookie card which adds to the value.
The red version is more common but if you have one of the gold versions, it was limited to just 25 cards. A PSA 10 version of this card was sold in November 2016 for $52,580. Estimates currently place this card at a value of $65,000.
Share: