Rookie cards are always the most expensive to buy. This is especially true if the player goes on to have a Hall of Fame career. And if the card is rare and old, the value goes up even more.
These cards go on to become hard-to-own collector items, and if in good condition, worth a potential fortune. These are the most expensive rookie cards ever, from the NFL, NBA, MLB, and NHL.
9. Michael Jordan Rookie Card, $100,000 (NBA)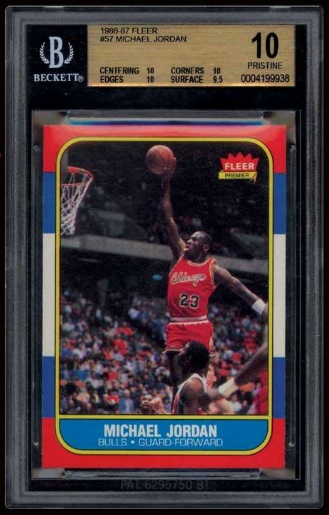 Michael Jordan's rookie trading card is one of the most valuable basketball cards in the world. The card, issued by the manufacturer Fleer in 1986, was purchased in 2012 by a private collector for $100,000. It was one of only three copies graded a 10 by Beckett Grading Services.
The card was sold by Tustin, a California-based auction house's "Own It Now" sale. This particular copy of the rookie card was the first to receive the NGS 10 grade, and it was even featured on the cover of Beckett Basketball Card Plus magazine, now known as Beckett Basketball. This valuable card was sold to a collector on the West Coast.
CHECK OUT: Valuable Michael Jordan Basketball Cards That Prove He Is The GOAT
8. Joe Namath Rookie Card, $265,000 (NFL)
Joe Namath is synonymous with leading the New York Jets to their most famous win, which goes all the way back to Super Bowl III. Joe Namath's rookie card is worth $265,000, and it was sold at a February 2018 auction. A couple of years earlier, the same card had sold for a then-high of $95,000.
This card is one of the most recognizable football cards for collectors, and due to the large format of this card, it is more prone to damage from handling. Due to its narrow borders, it is also challenging to find a well-centered card. Some of the cards are often found with a distinct print mark on Namath's left hand.
7. Jim Brown Rookie Card, $358,000 (NFL)
Jim Brown is a sporting legend and is often crowned as the greatest ever running back the game has ever seen:
This rookie card is the only recognized rookie card of Jim Brown, and the card is often found with print defects. It is also prone to poor centering and reverse-chipping at the red edges.
However, one in relatively good condition can be worth $358,500.
CHECK OUT: 5 Most Valuable Football Cards 1990s: Includes Manning And Favre
6. Shoeless Joe Jackson Rookie Card, $667,000 (MLB)
This valuable card is one of the oldest rookie cards to be sold. This also meant it was sold in a rougher condition than many others on this list. The best-graded copy of this card was an 8, and it was sold for $667,000 at an auction.
Even a Shoeless Joe Jackson graded at a PSA of 1 can fetch above $10,000.
5. Tom Brady Rookie Card, $3.1 Million (NFL)
Sold last night via @Lelandsdotcom for $3,107,372…the most ever paid for a football card. pic.twitter.com/876MpMI8t9

— Sports Collectors Daily (@SportsCollector) June 5, 2021
A Tom Brady rookie card sold for $3,107,000 on June 5, 2021. Making it one of the most expensive rookie cards ever (and #3 on this list).
Amazingly, only a few weeks prior, another one of Brady's rookie cards sold for $2.5 million (we're not doubling up on players in this list – so we've only included one of the QB's cards here).
Suffice it to say, the auction on June 5 ended in a bidding war for this mint condition rookie card. Starting at $750,000 and rocketing up to the final total.
The final price makes this the most expensive NFL card ever. A fitting tribute to arguably the greatest quarterback in NFL history.
4. Wayne Gretzky Rookie Card, $3.79 Million (NHL)
Wayne Gretzky owns most records out there in the NHL and is undoubtedly the most famous hockey player of all time. Gretzky's 1979 O-Pee-Chee rookie cards are known to be one of the most valuable hockey cards ever to be produced. At an auction in May 2021, this card sold for $3.79 million.
CHECK OUT: 10 Most Valuable Hockey Cards: From $22,000 To Six-Figures
3. Patrick Mahomes, 2017 Rookie Autograph card, $4.3 Million (NFL)
An 8.5 BGS-graded Patrick Mahomes rookie autograph card was sold in July 2021 in a private auction for $4.3 million. Making it the most expensive NFL rookie card ever.
The card is a 2017 National Treasures NFL Shield autographed card. And 1-of-1 is available.
CHECK OUT: 10 Strangest Super Bowl Facts From NFL History
2. Mickey Mantle Rookie Card, $5.2 Million (MLB)
Who doesn't know the name of Mickey Mantle in baseball? The price of any of his collectible cards fetches a good amount of money. His actual rookie card from 1951 is worth $750,000. However, it is another of his cards, released in 1952 that is worth a lot more. His 1952 card sold for $5.2 million.
The surprising part is that the company that made the cards ended up dumping most of the copies in the ocean when the surplus sets did not sell in that first year. As a result, there were only three copies of this card known to exist in mint condition.
1. LeBron James Rookie Card, $5.2 million (NBA)
A rare LeBron James autographed rookie card sold recently for $5.2 million, thus shattering the most expensive basketball card ever to be sold record. Sold in a private auction, the LeBron James card was one of a limited edition of 23 copies, which had a grade of 9 from Beckett Grading Services. This was the third-highest-graded card of its type.
While this card sold in April 2021, a similar version of the same LeBron rookie card that had a 9.5 grade by Beckett, sold just ten months earlier for $1.85 million.
Share: